Kijelölt témák: 0
Üdvözlünk a(z) TheGeeks adatlapján!

Profil adatok
| | |
| --- | --- |
| Elérhetőség | Link az oldalhoz |
| Szint | 6 |
| Típus | Ebook |
| Sebesség | 9 |
| Tartalom | 9 |
| Felhasználók | 18000 |
| Torrentek | 56385 |
| Regisztráció | Meghívóval |
| Arány | Közepes |
| Nyelv | |
| Az oldal alakult | 09/08/2010 |
További bemutatók
2016 -
link
Egyéb
Az oldal jelenleg:
Online
Elérési állapot:
0 (magyarázat)
Kapcsolat:
Kapcsolattartó:
IRC:
irc://irc.thegeeks.click/#thegeeks.click
Hasonló oldalak:
Adatlapot beküldte:
Cf dealer
2017-04-27
Legfrissebb hírek
With Bitme.org seeming to have passed away we, the staff of
Code:
https://thegeeks.click
have been inundated with people just scrabbling to get in a mad hair pulling disorganised way, so, we have decided to open our doors to any of their refugees who wish to join our site and relax the rules of normal invite signup - if people do things constructively ( we need our sanity too).
To those Bitme members who are not acquainted with TheGeeks, see reviews however the two sites share a similar mission and ethos and content. We're a general E-Learning tracker with focus on IT, Web Design, DB, GFX, Languages, Science, Photography, Documentaries even Craft & Hobby subjects.
To apply for an account you must email here: [Bitme2TG@protonmail.com](mailto:Bitme2TG@protonmail.com)
You must use a proper non disposable email address, preferably the one used at BitMe.
* No Use of Proxies/VPN/TOR/Seedbox/Corporate/Mobile IPs to join up or communicate/website use. (Seeding ok)
(We only allow one approved VPN/proxy service after your reach power user class - SEE FAQ)
* supply at least one screenshot proof of actual BitMe membership
-either account profile screenshot youve kept ora bitme torrent url seeding in your client
-a second live tracker profile screenshot off the reddit list
Code:
https://i.redd.it/8z4d1yu2eut11.png
would speed things up
* a short description of your tracker history or any and all info you think could be relevant.
If you havent got proof of BitMe still then we also accept profile screenshot proofs of two live trackers from the Reddit trackers list
Code:
https://i.redd.it/8z4d1yu2eut11.png
, however email these to the normal email address.
(length of time on the tracker & ratio/posts are considered in the process)
Normal invite email for non-bitme applicants: [tg_invite@protonmail.com](mailto:tg_invite@protonmail.com)
any queries come to our irc - /server irc.thegeeks.click 6667 channel: #thegeeks-invites
See you soon ! :-)
People resident in Countries: Algeria, Egypt, India, Pakistan, Romania need not apply.
(exceptions made on Very Good tracker experience elsewhere)
By posztoló
Utorrent v3 banned from 1st March 2018
In the last few days knowledge of a major Utorrent v3.x vulnerability/security flaw discovered by Google security researcher Tavis Ormandy was made public - it was found in old and new versions of uTorrent v3.x releases dating back over 4yrs.
Our initial checks a month ago showed a severe issue and we initially banned 3.5.1S because of this.
Older uTorrent versions 1.8.2, 2.0.4 and 2.2.1 are not affected in the same way as uTorrent versions 3.x.
We therefore reluctantly have decided to ban ALL utorrent 3.x variations in alpha, beta or production releases until a firm true fix has been applied on any new v3.x releases.
from 1st March 2018 v3.x versions will NOT WORK ON THE TRACKER - you're therefore advised to change your app ASAP for your own safety.
For those who use the uTorrent version 3.x, please downgrade to the versions of uTorrent above as they are allowed versions of uTorrent (1.8.3 2.2.1 or 2.0.4). These have LESS security risks THAN v3.x
Alternatively change to a viable alt like Qbitorrent 3.3.16/4.04 -or- deluge 1.3.15 as they have a more stable environment and LOOK and behave similar to utorrent 3.x - and are FREEware.
Our approved Torrent Client list
Older 1.6.x 1.7.x 1.8.x 2.0.4 and 2.2.1 uTorrent versions will remain workable on the tracker.(These have LESS security risks THAN v3.x)
The exploits as they are do not work on 1.8.2, 2.0.4 and 2.2.1, you have uTorrent 1.8.2, 2.0.4 and 2.2.1 all you have to do is disable the Web UI (if it is enabled) and change the advanced setting "net.discoverable" to false.
Neither of these mean 2.2.1 is in the clear, but even though yes, it is outdated, and no, it is no longer maintained, it is still in better shape than newer uT versions.
Please make sure you protect yourself and have the correct settings done.
*IF* Utorrent complies with the google notification in FULL we may whitelist future v3.x releases. So far they just added another token to v3.5.3.S and it's still vulnerable because the flaw's still there.
This Utorrent ban is not a fix. 3.x has had way too many issues to think that more serious ones won't crop up.
References:
https://torrentfreak.com/bittorrent-...bility-180220/
http://orbitaldownloads.com/utorrent_2.2.1-build-25249/
http://orbitaldownloads.com/utorrent...ld-15167/info/
.
Donations @ 2017-05-04 22:33:53 GMT
Pleased to announce that bitcoin donations are now available on all TCG sites, other options to be announced soon. Enjoy and we appreciate your support!
~TCG Staff
By posztoló
Download Script @ 2017-04-23 23:05:43 GMT
If you had problems with thegeeks.click/mass_download.php we have made some changes and it should be working fine now! Apologies for any issues.
Alternatively you may change the url in your clients (just change .bz to .click). Passkeys are the same so that should do it!
thanks
By posztoló
Along with everything else, Group Buy activity since January 26 was lost in restoring the recent backup.
Staff is calling on all Group Buy participants to help us identify what needs to be fixed!
This may take a little while, but the more help staff gets -- the sooner things should get back to normal.
Post about anything missing On our forum.
Staff appreciates the help! (And note that Group Buys at TheGeeks are for Power Users and up.)
By posztoló
Képek az oldalról: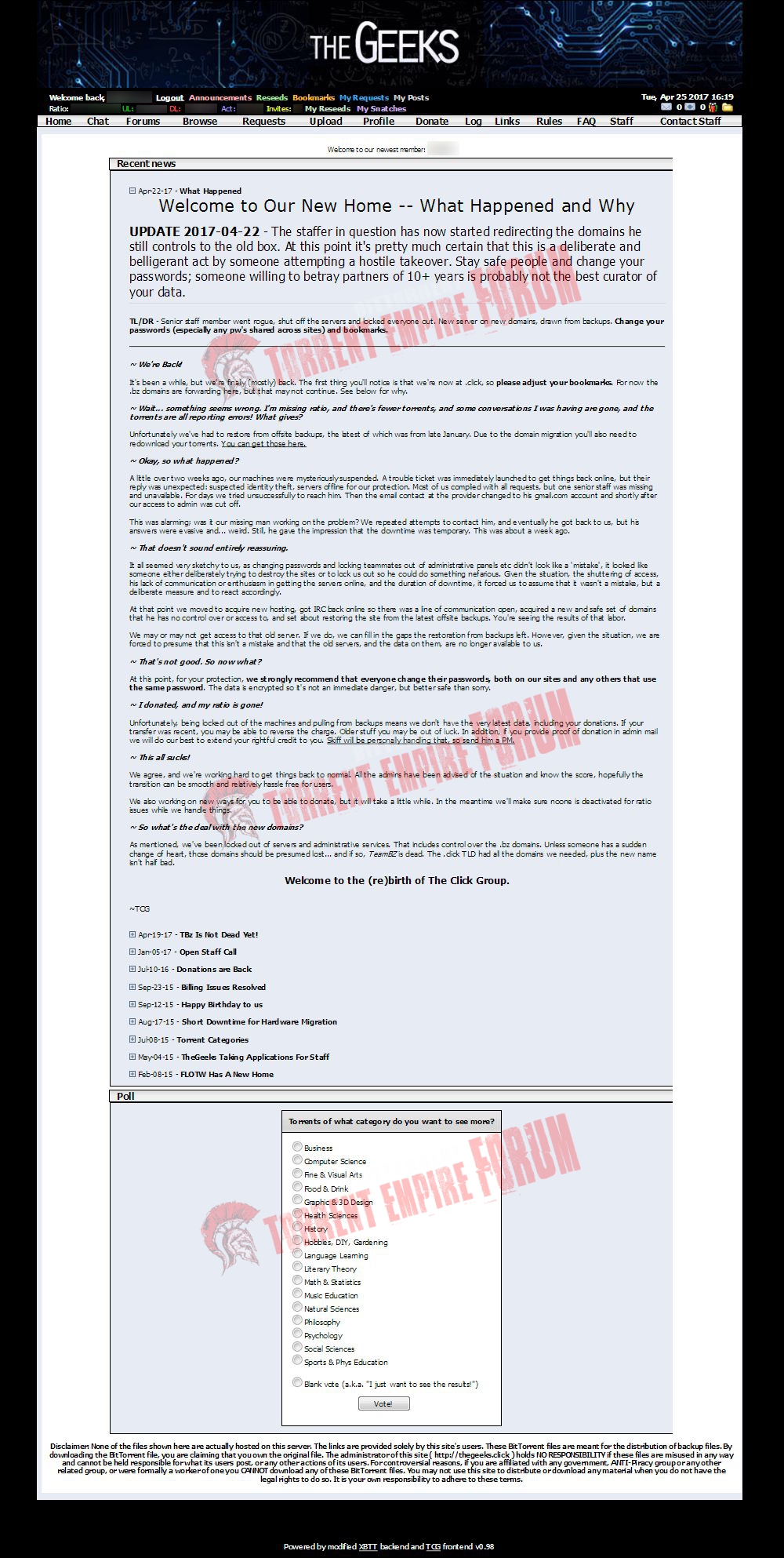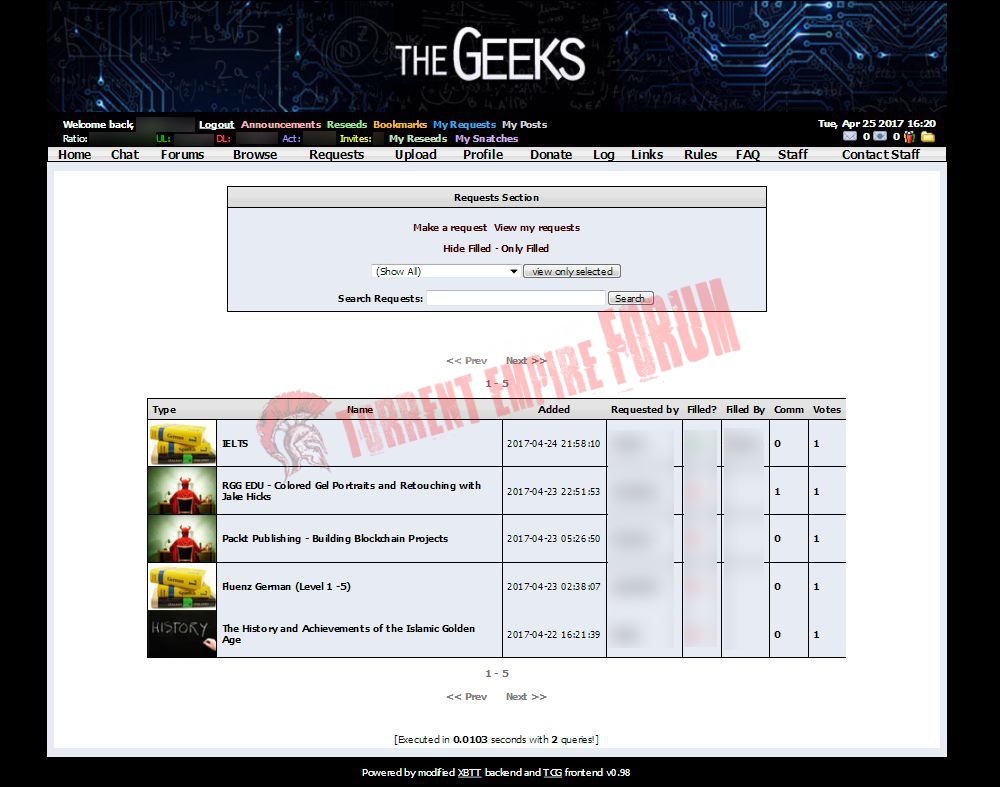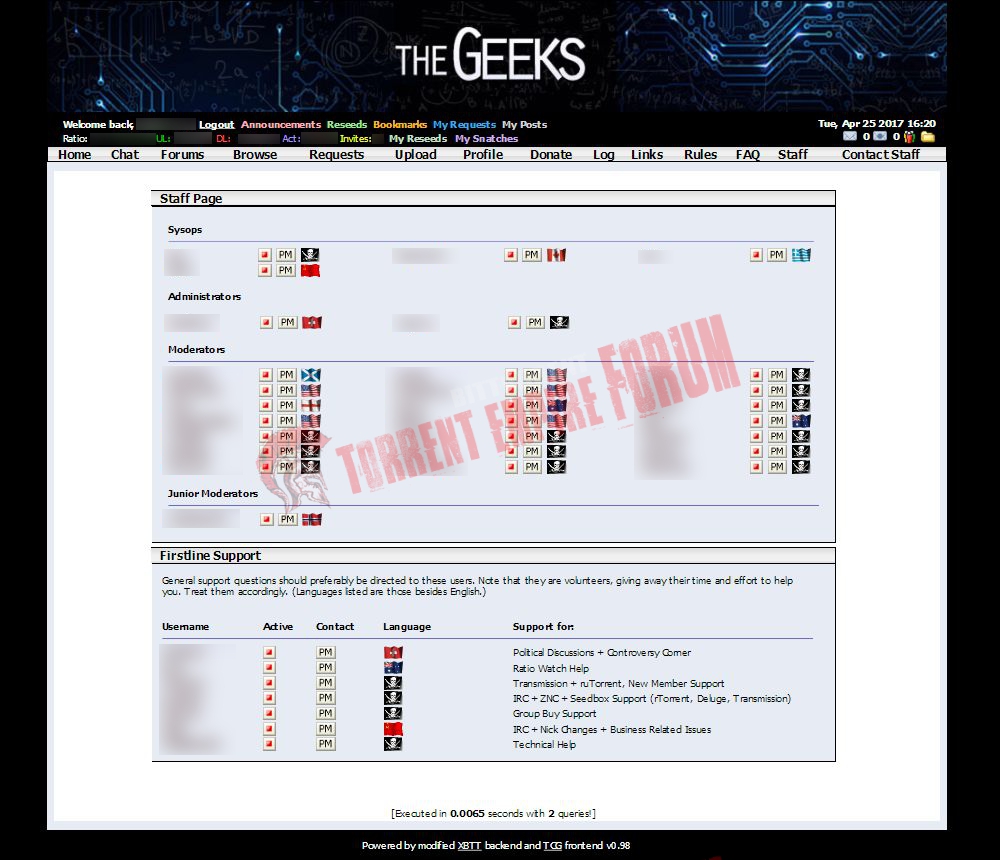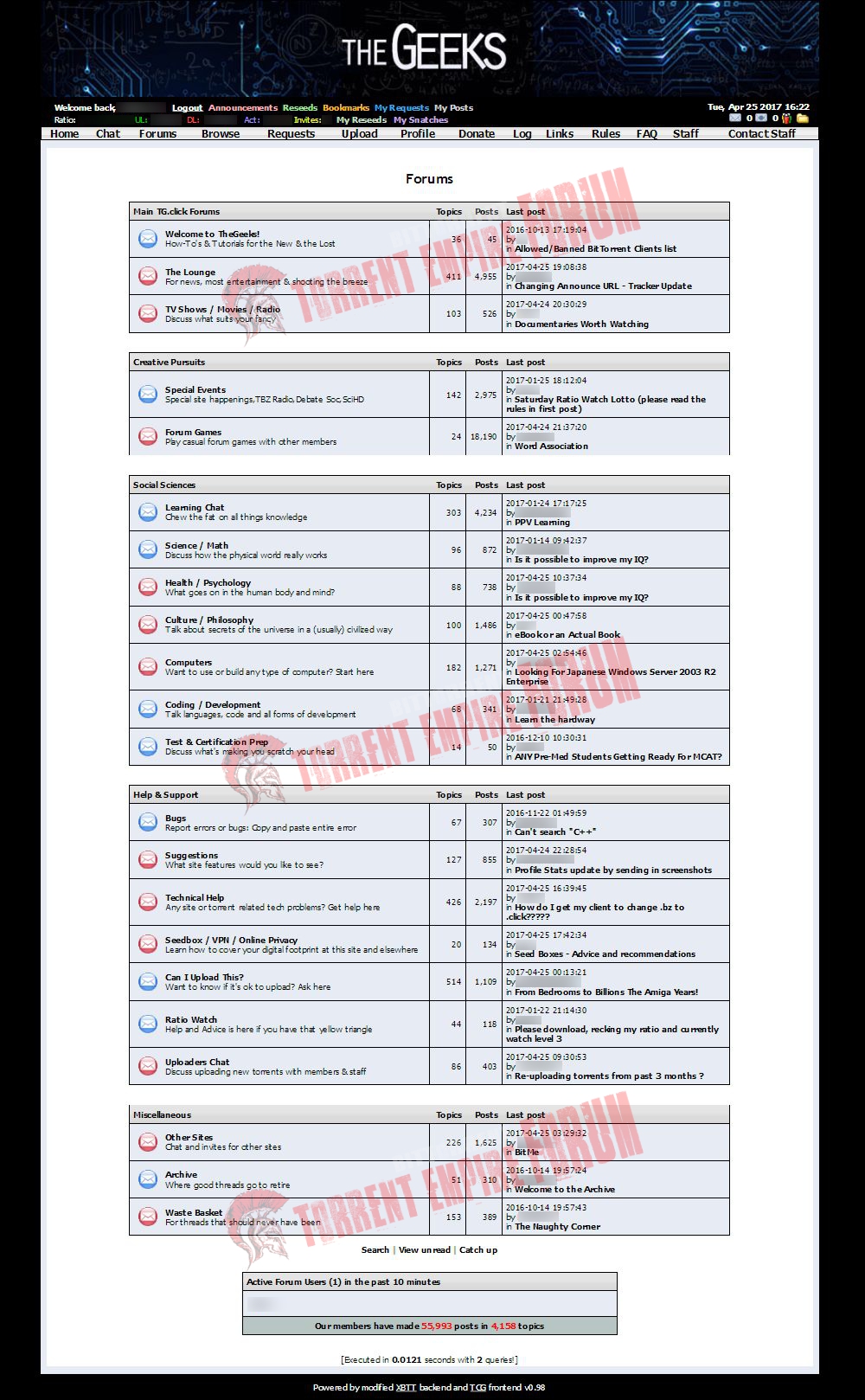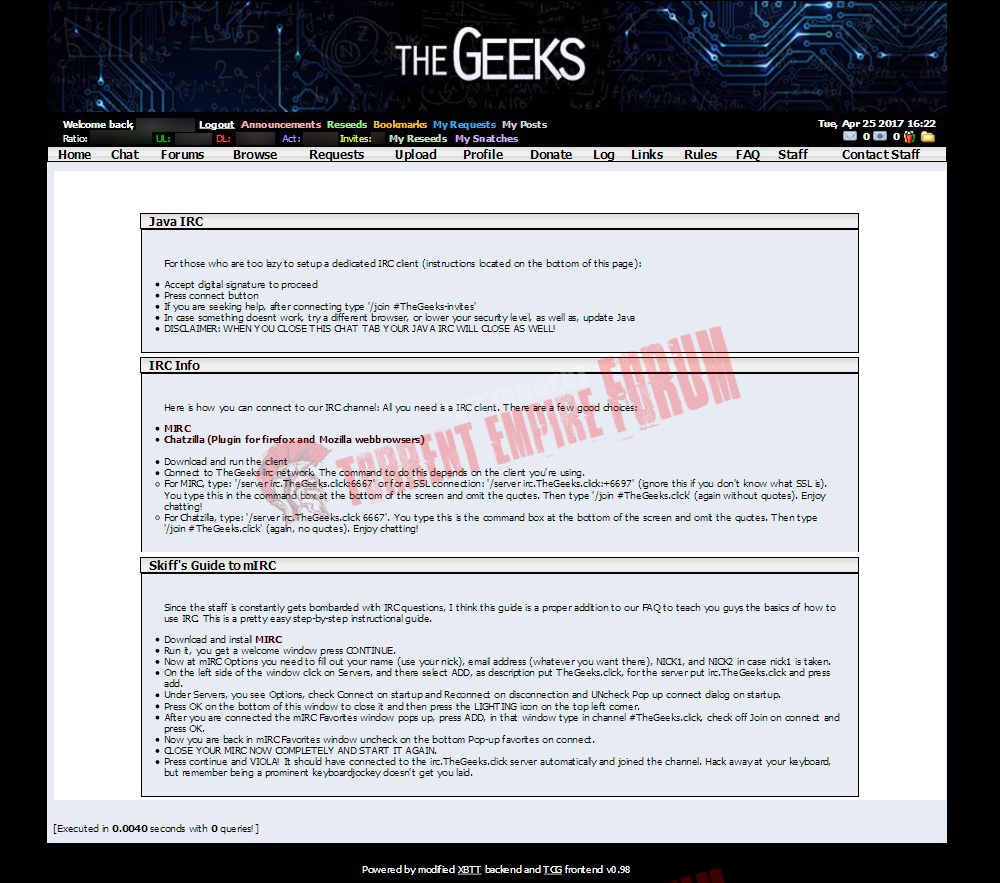 Megtekintve:413 alkalommal