Kijelölt témák: 0
Üdvözlünk a(z) Cyber-Souk adatlapján!

Profil adatok
| | |
| --- | --- |
| Elérhetőség | Link az oldalhoz |
| Szint | 3 |
| Típus | Vegyes |
| Sebesség | 4 |
| Tartalom | 3 |
| Felhasználók | 3074 |
| Torrentek | 9409 |
| Regisztráció | Szabad |
| Arány | Közepes |
| Nyelv | |
| Az oldal alakult | |
További bemutatók
Egyéb
Az oldal jelenleg:
Online
Elérési állapot:
0 (magyarázat)
Kapcsolat:
Kapcsolattartó:
IRC:
Hasonló oldalak:
Adatlapot beküldte:
Anonymus
2018-03-17
Legfrissebb hírek
Greetings to all,
We remind you that Cybersouk is a sharing site,
and that, as such, the only effort that is required in exchange for downloads, is to stay in seed for some time ...
See the rules HERE ...
As a result, we can not tolerate members showing bad minds using certain software or other tricks, to cheat about it ...
From this day, members caught red-handed cheating will be immediately banned from downloading ...
We are counting on you to play the game of sharing
cordially
Staff
By bincy
Greetings to everyone
For this end of year, all Cyber-suk team wishes you and your families our best wishes for peace, joy, happiness, health, money and success.
We especially want to thank the uploader who, through their work,
allow the site to exist. Big thank you to those of you who are sharing and or participate in the life of the forum.
Our objectives for 2018 are quality, responsiveness, listening, and full of surprises. We count on you to help us get there.
That sharing is with you and that the coming year brings a torrent of good things.
Our best wishes
The Maid Cyber-suk's team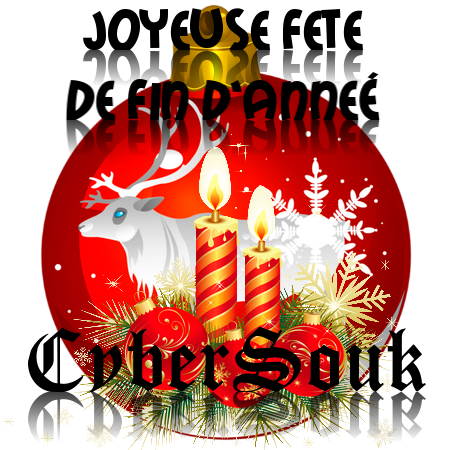 By bincy
Hello ChouCoeur
As you can see this morning the script is more fluid than yesterday loll
By cons, we still have many unresolved issues ... there's still a lot of work to do for our dear Encoder
- torrent in red in the bitclient with error message
- writing font change that no longer works - several members who can not access the blablateuse ...
If you see other problems would be nice to us reassembly.
Please accept our apologies for these youth bugs and assure you that everything will be done so that the site is working properly.
Once everything is resolved, we will offer a week of free lech for us to forgive.
Thank you for your patience and understanding
Good luck on cyber-souk and all soon
By posztoló
Hello everyone
The Cyber-suk informs you that as of 24/6/17
The new website address is: https://www.cyber-souk.net
The site script, now obsolete, has been completely modified and improved our encoder Claude33 we thank
for his great job.
all data until 06/22/17 7:00 were transferred.
(Members torrents, forum ...)
Registered members since that date will have to reregister and reposted torrents.
It may be that the first login password is not recognized. If that is the case, thank you
to request a new one on the log page.
Regarding your torrents, simply change the ad tk adding the "s" http
To do this, right-click the file in your torrent client,
go under ownership made the change.
Which should give https://www.cyber-souk.net/announce.php?xyz(chiffre specific to each).
For torrents uploaded after 06.21.2017 7:00, thank you to upload kindly to repost or contact the staff.
If you have important messages in your mail, thank you to save, they do
will not be imported to the new site.
We look forward to seeing you on the new Souk and expect your comments or any questions.
Do not hesitate to contact the staff.
By posztoló
Képek az oldalról: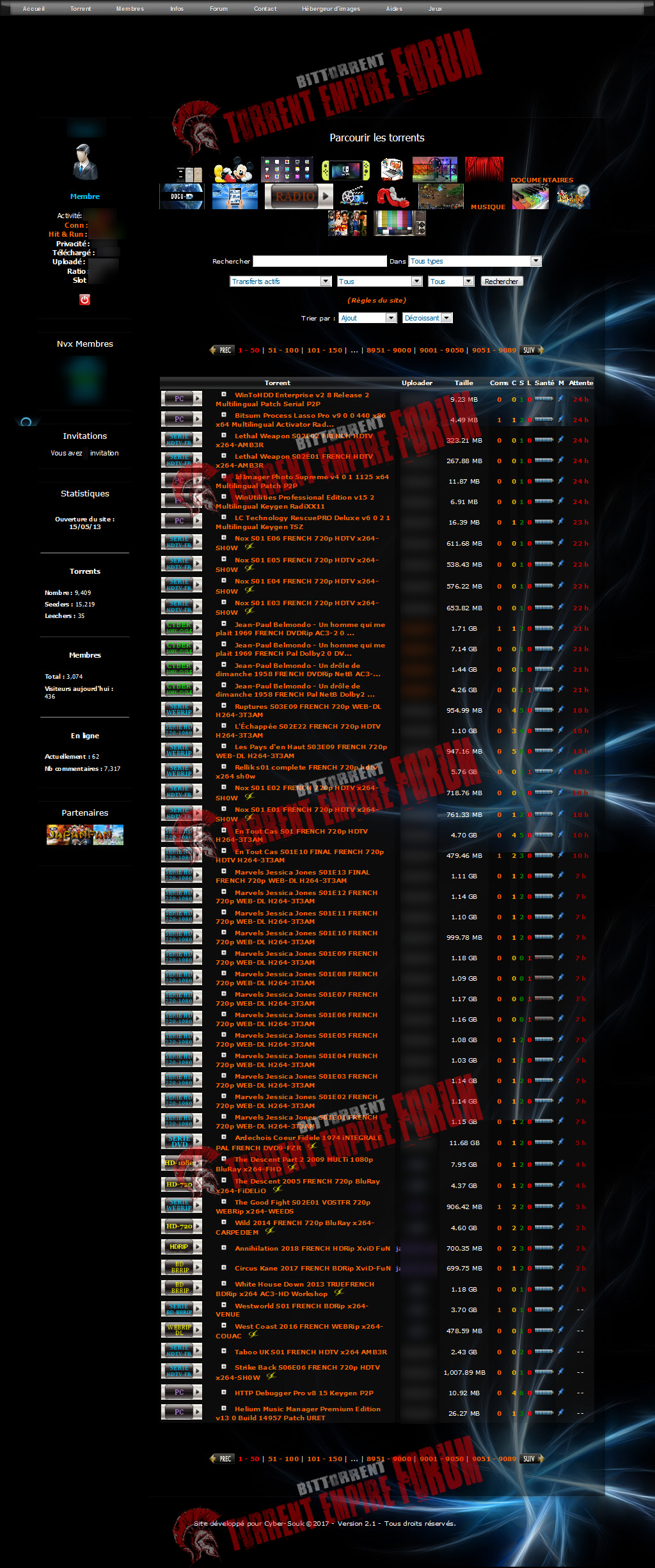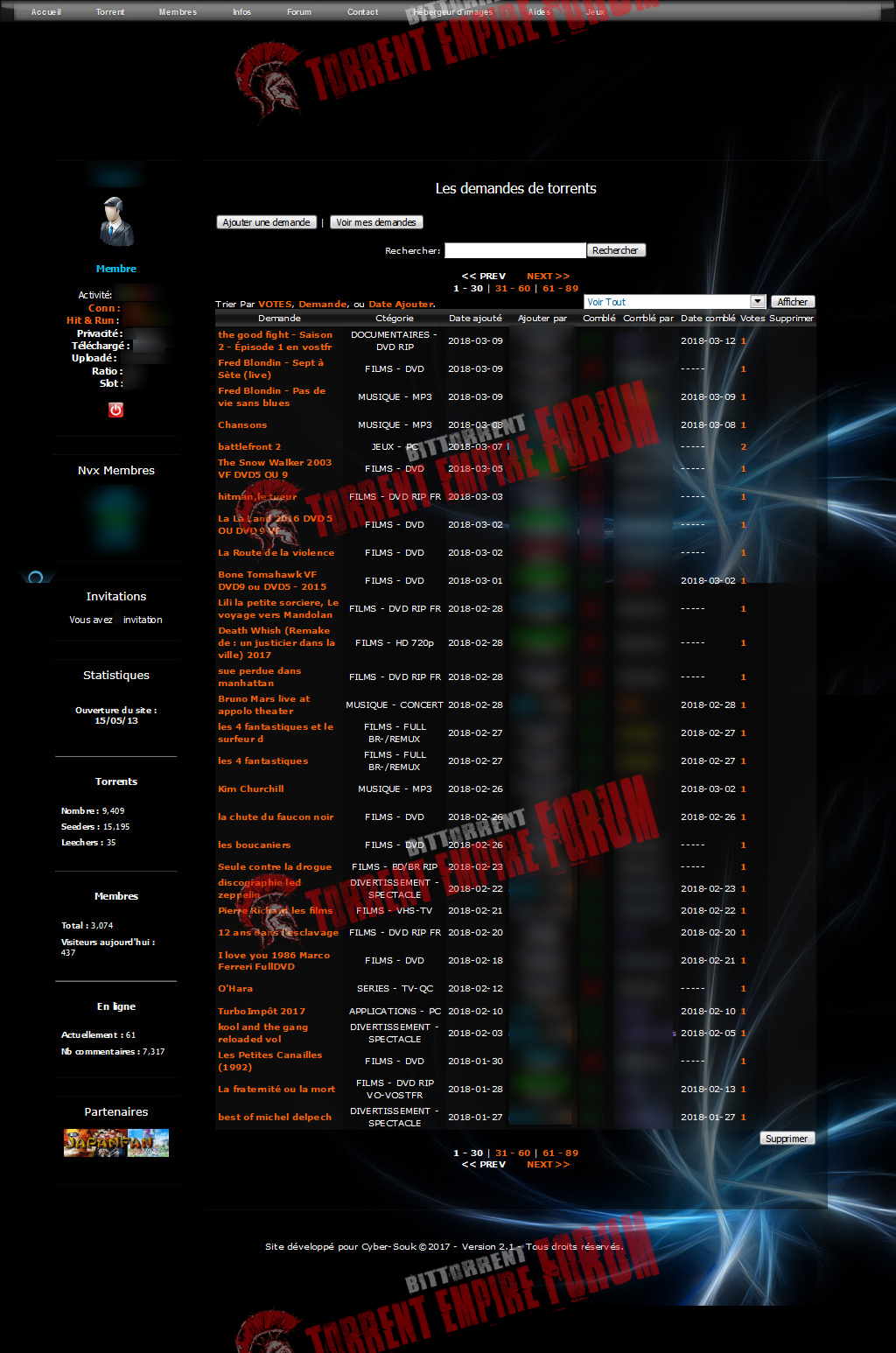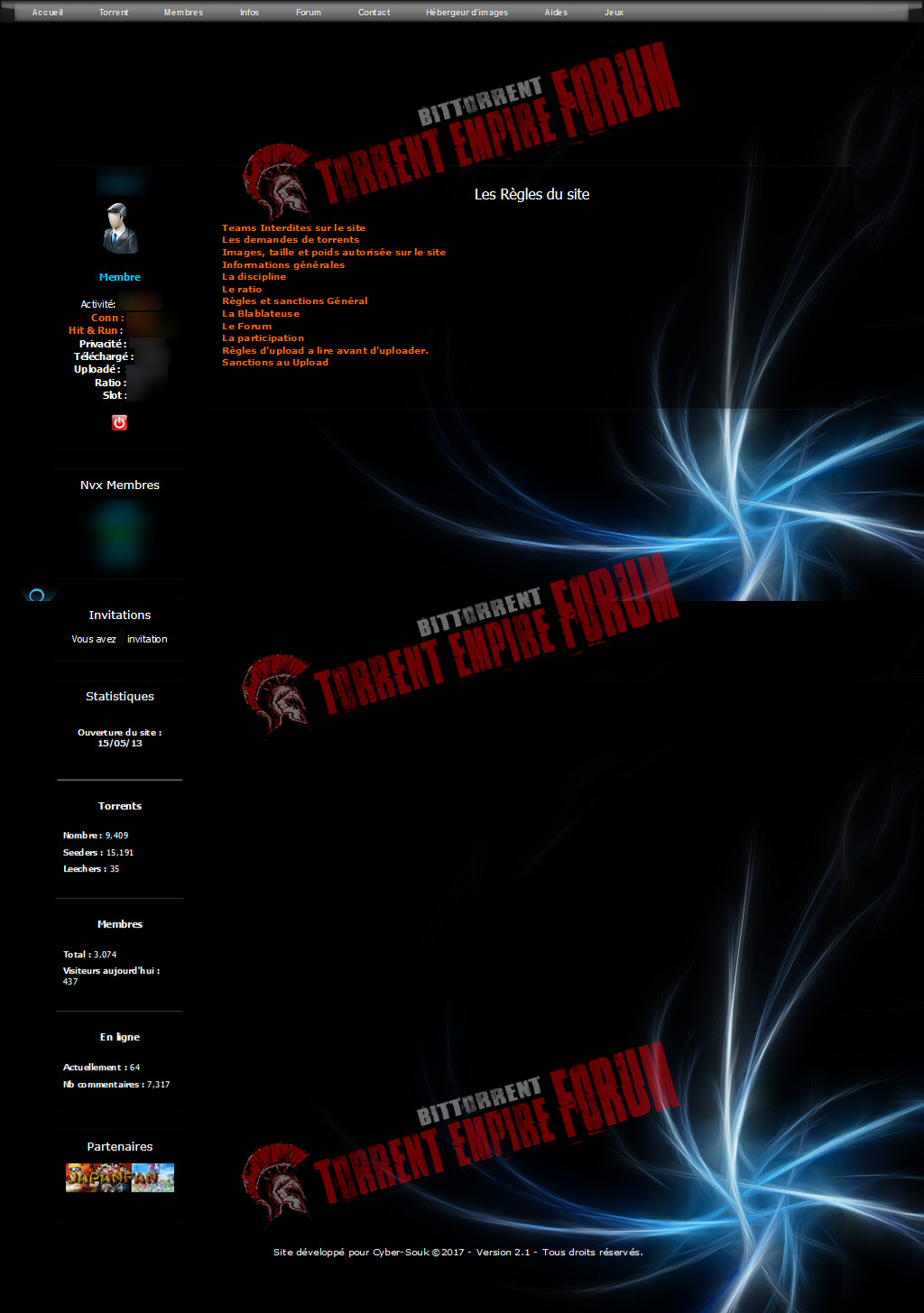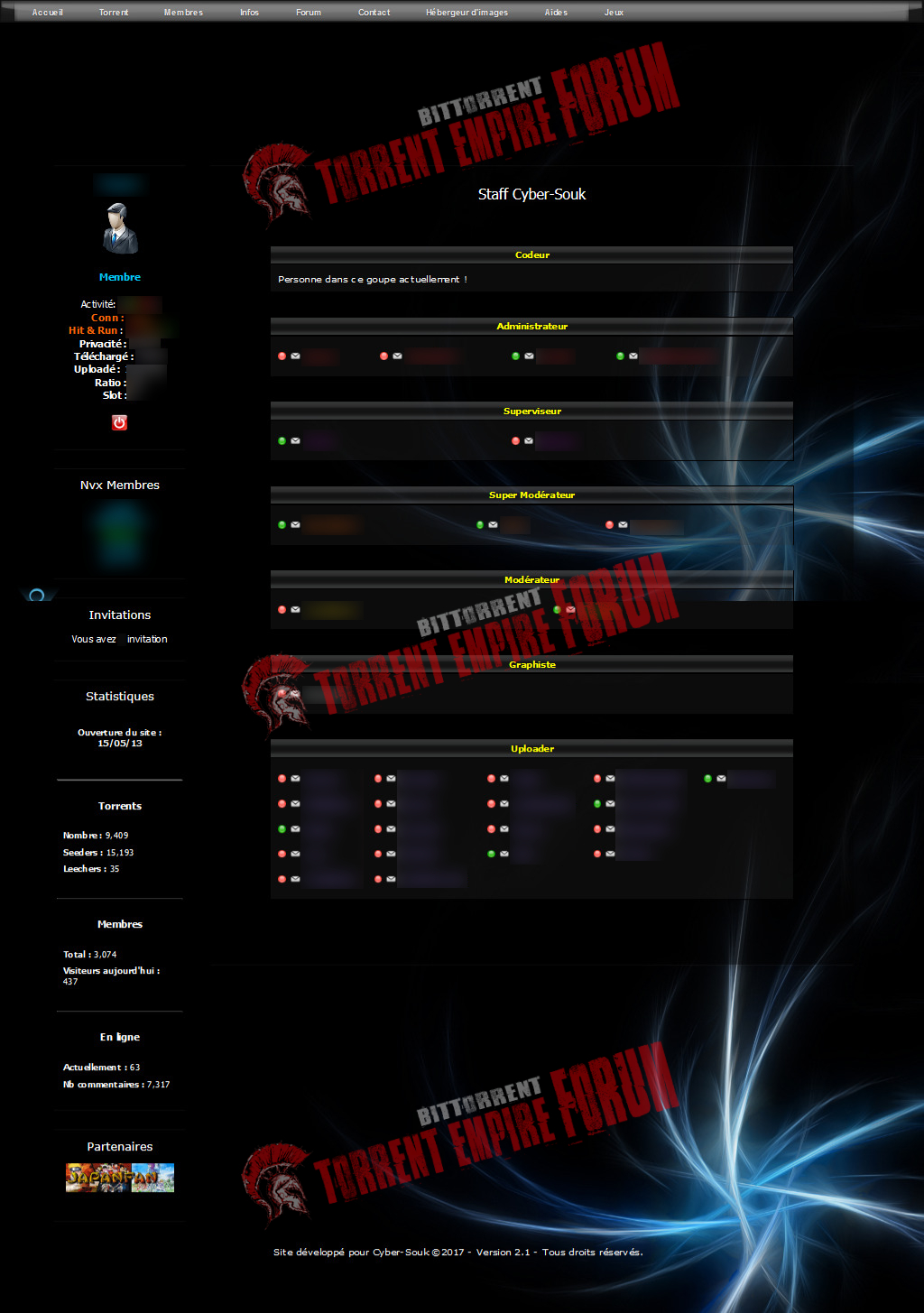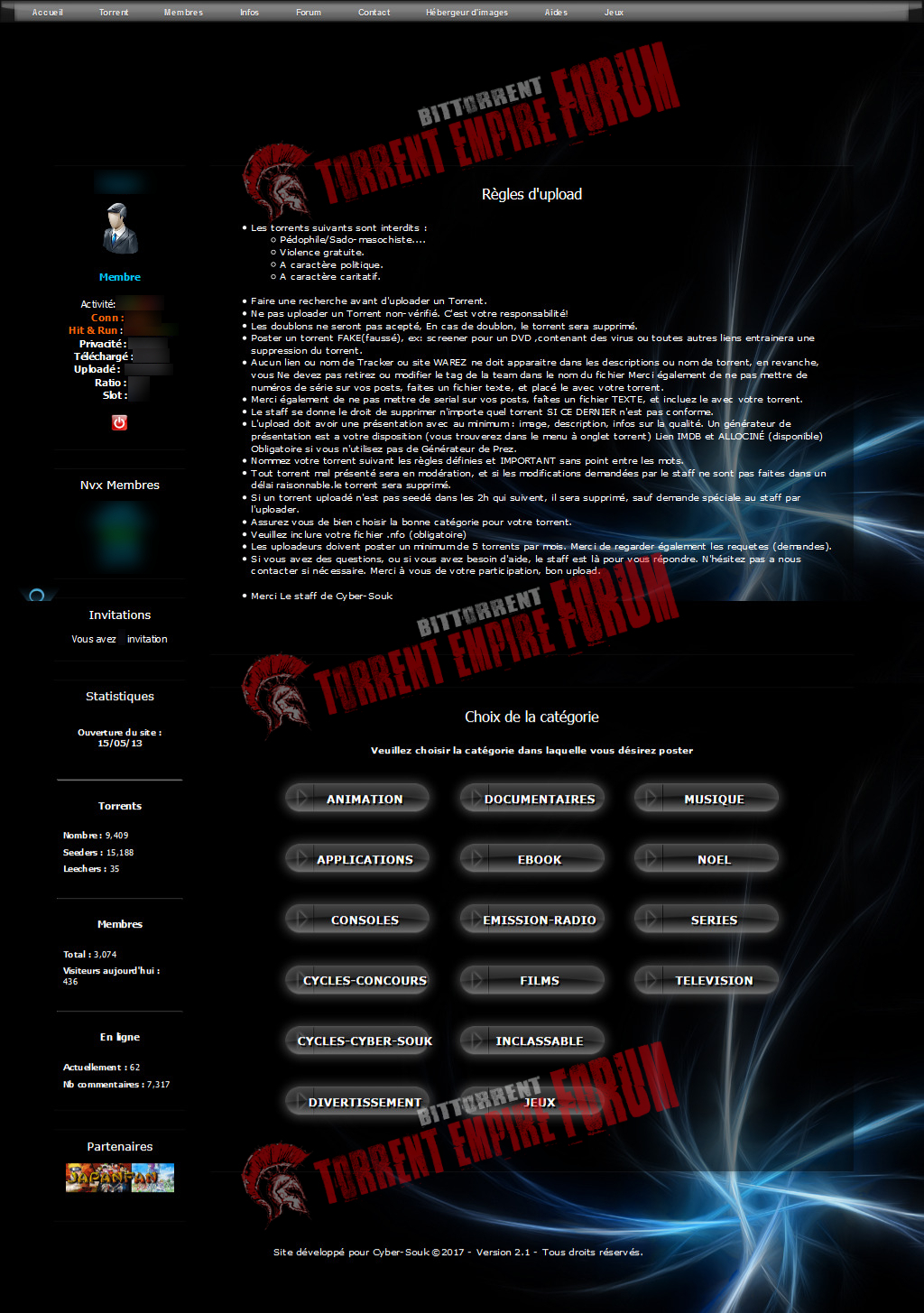 Megtekintve:179 alkalommal