Kijelölt témák: 0
Üdvözlünk a(z) Concertos adatlapján!

Profil adatok
| | |
| --- | --- |
| Elérhetőség | Link az oldalhoz |
| Szint | 1 |
| Típus | Zene |
| Sebesség | 2 |
| Tartalom | 1 |
| Felhasználók | 1615 |
| Torrentek | 1215 |
| Regisztráció | Szabad |
| Arány | Közepes |
| Nyelv | angol |
| Az oldal alakult | |
További bemutatók
Egyéb
Az oldal jelenleg:
Online
Elérési állapot:
0 (magyarázat)
Kapcsolat:
Kapcsolattartó:
IRC:
Hasonló oldalak:
Adatlapot beküldte:
macseklany
2018-04-21
Legfrissebb hírek
I will give 500 Bon (bonus points) for your first upload to this site.
If you have ripped or encoded it yourself, I'll give you an additional 500 Bon.
In order to claim your Bon, create a post in this thread with the title of your upload and a link to it.
Criteria:
The upload must conform to the rules.
The torrent must be uploaded no more than four weeks prior to posting here.
By posztoló
We have adjusted the Bonus Points reward rates.
Dear users,
We have just lowered the BP reward rates by 50% to make it more balanced again. This may be changed again in the future based on the user statistics.
You can find the new rates here: here
Compared to the original values, the rates are now 2x higher instead of the previous 4x higher.
This may be discussed here if desired: here
Best regards,
The Staff
By posztoló
Tracker for DSD
As we probably switch in the future to Gazelle, we're probably going to drop every category that isn't related to our primary content. I'm willing to set-up a separate tracker for it with the primary category being DSD stuff (or maybe other things also that people here want, like podcasts). The tracker will run Gazelle and everything's going to work fine, it will have the usual Gazelle features like proper metadata, artists and proper torrent groups. The thing here is that I'm not going to pay for it. So if you want to see that project alive I suggest we set up something like Bitcoin donations for it. I think the costs should be under 30 euros per month and we need a few people who're interested in helping maintaining it (staff).
So, I just want to hear what you all think. Bad idea? Would you help?
By posztoló
Upload Contest: Progressive Rock Edition!
General Information:
This is an uploading contest that every user on Concertos can participate in. The goal of the contest is very simple, upload as many torrents as you can that meet the contest requirements before the specified time runs out. If you finish the contest in the top 5, you will receive fabulous prizes. The theme of this contest is Progressive Rock. That means that every upload of progressive rock material in any category qualifies for this contest! The upload needs to feature at least one artist or band that is listed as either Prog Rock or Art Rock on either Discogs or Allmusic.
The rules:
-The contest starts on Wednesday the 21st of November at 10 AM GMT and ends on Wednesday the 5th of December at 10 AM GMT.
-Only uploads made during this period are eligible for the contest. Any uploads made prior or after this period do not qualify for the contest.
-The upload needs to feature at least one artist or band that is listed as either Prog Rock or Art Rock on either Discogs or Allmusic. All torrent types are eligible and all categories are eligible.
-Any qualifying upload is disqualified from the contest if it does not meet our general uploading rules. Examples: uploads without MediaInfo, missing screenshots or bad titles.
-All uploads are expected to be seeded for an appropriate amount of time or until an appropriate number of seeders have joined the swarm. This is not different from the regular rules.
How it works:
It is very simple to participate in this contest. Once you have made an upload that qualifies for this contest, just create a post in the thread linked below with the name of the upload and a link to the upload.
All subsequent uploads need to be added to this post. So edit your first and only post in this thread for every upload you make, but do not add any additional posts.
That way every participating user has 1 post in this thread. If you have any questions regarding the contest, then please PM Scrooge instead of posting in this thread.
The prizes:
-1st prize: 12.500 Bonus Points + 1 Featured Torrent + 2 Week 500GB 1Gbit Seedbox.
-2nd prize: 7.500 Bonus Points + 1 Featured Torrent.
-3rd prize: 5.000 Bonus Points + 1 Featured Torrent.
-4th prize: 2.500 Bonus Points.
-5th prize: 500 Bonus Points.
Good luck!
By posztoló
I am happy to say that we've made some progress in trying out and evaluating several different Gazelle forks. One of them is looking very promising in particular. There is still a long road ahead, but the first steps have been made towards a better and more future proof codebase for Concertos.
We will keep you updated!
By posztoló
Képek az oldalról: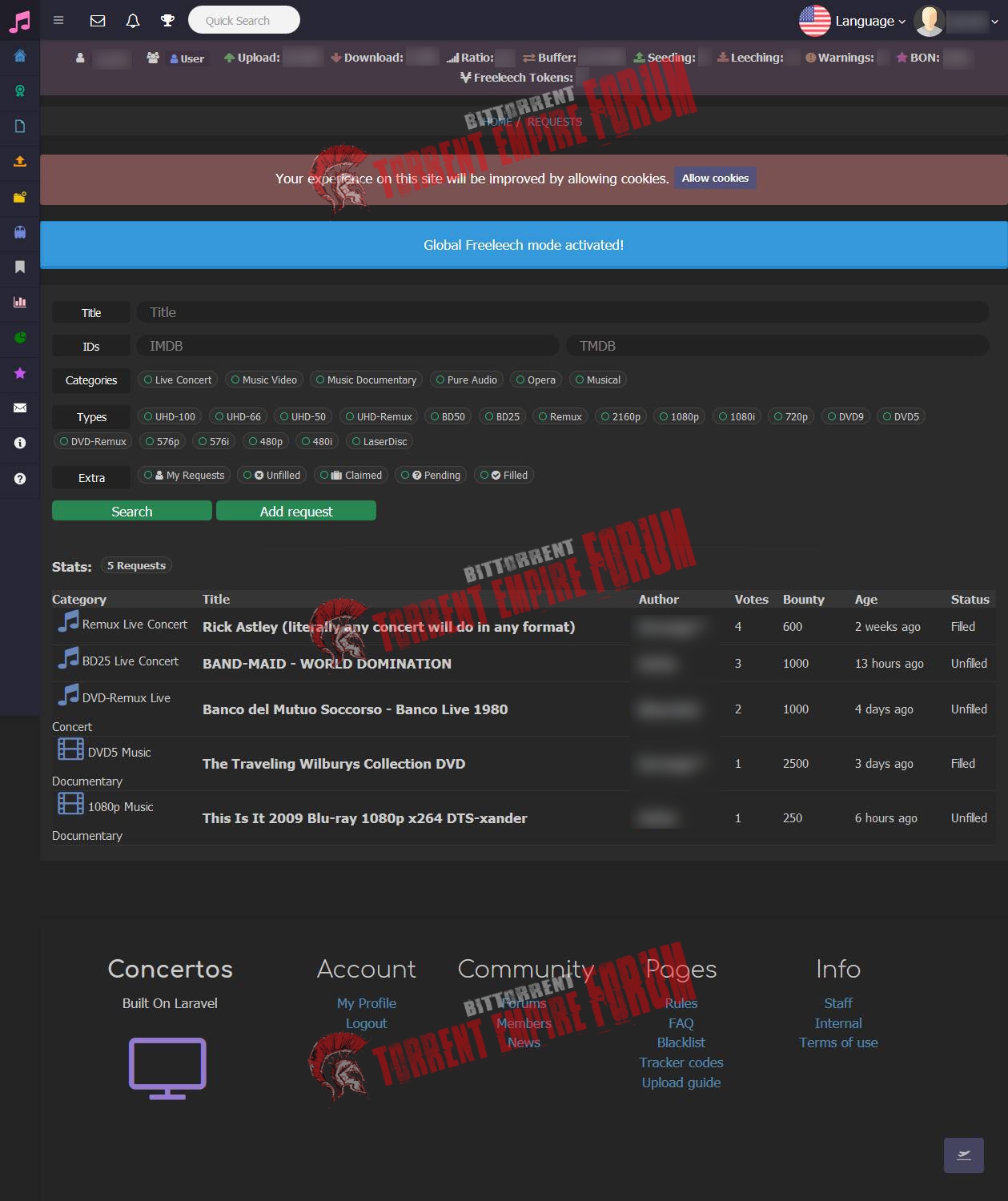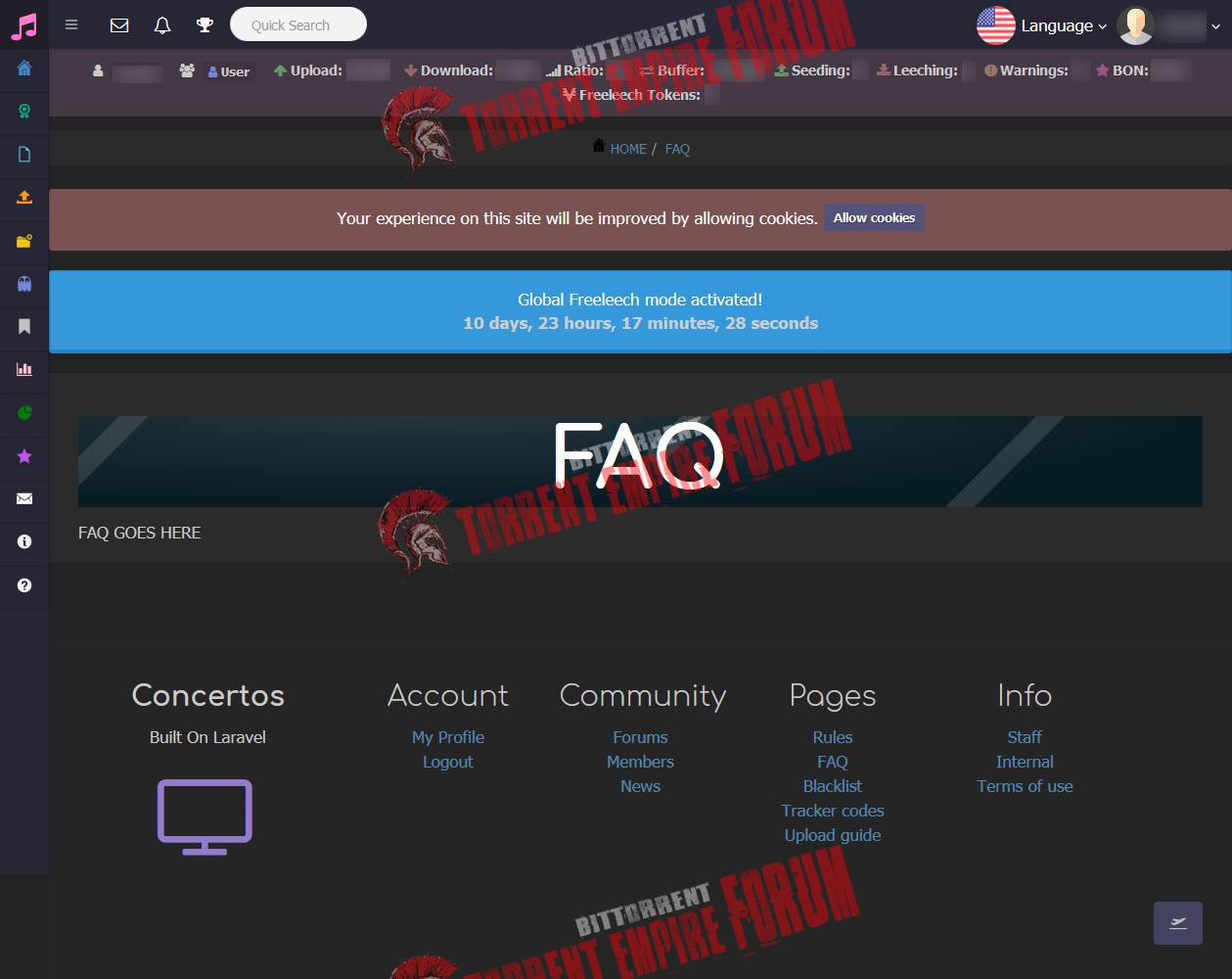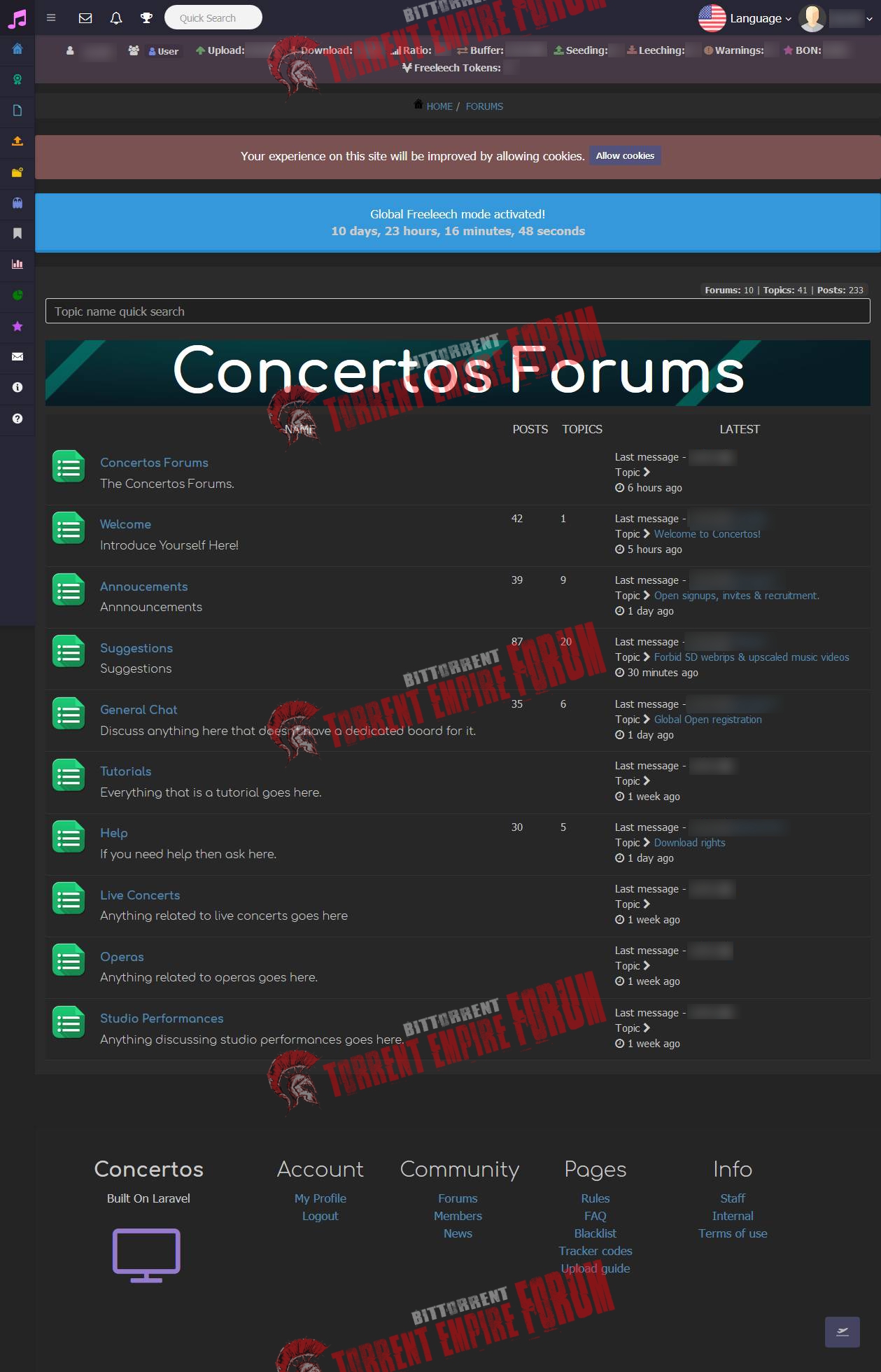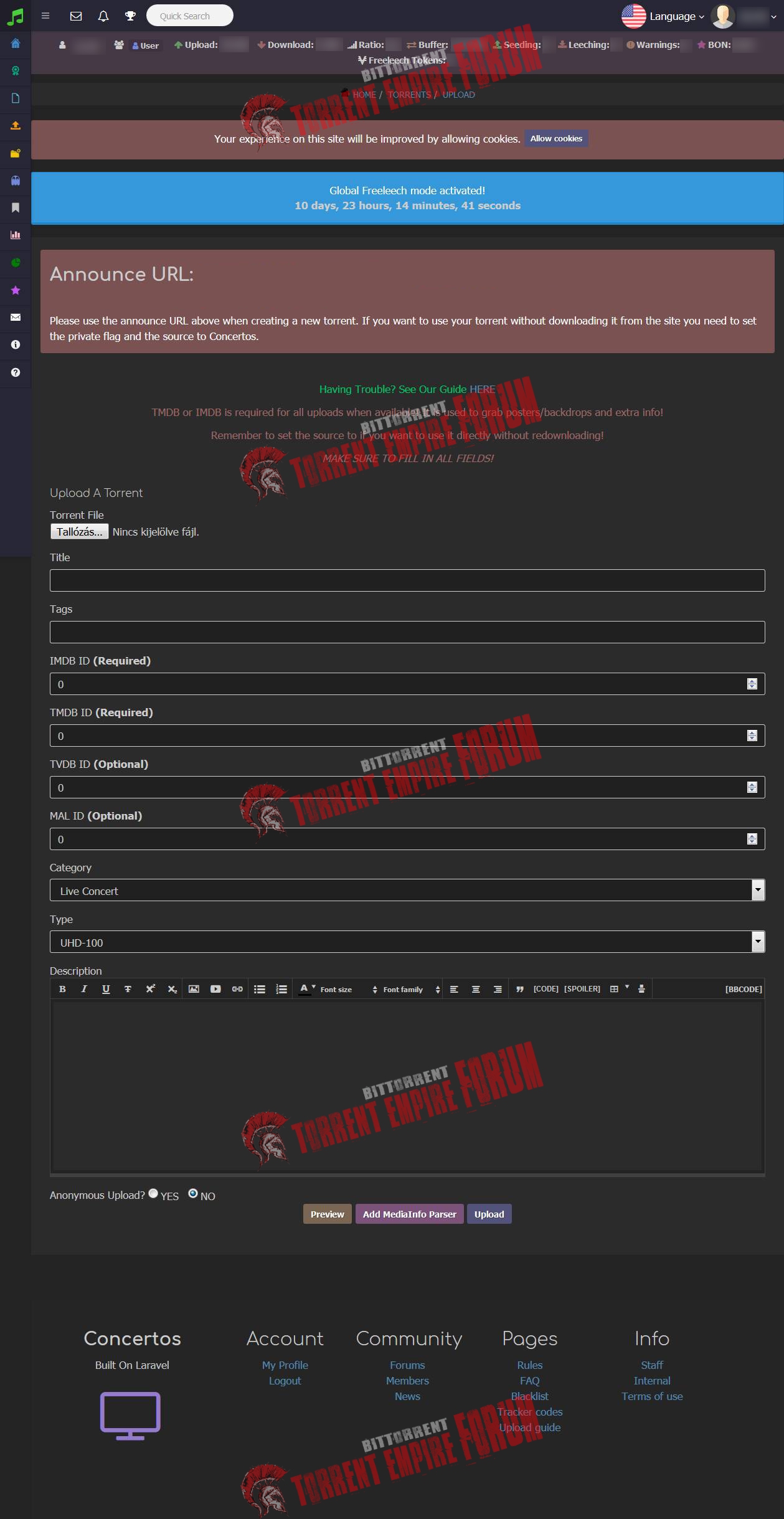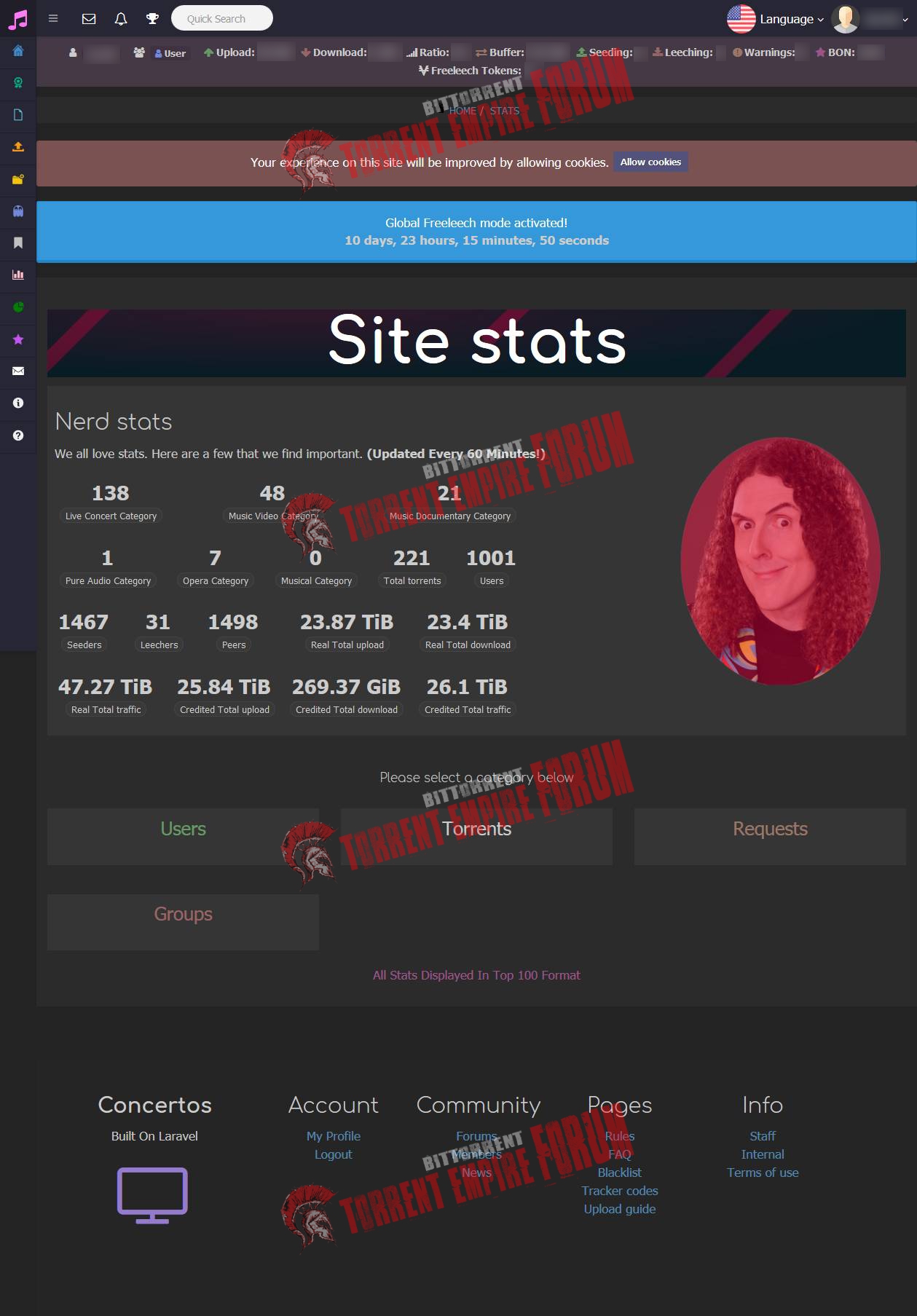 Megtekintve:215 alkalommal