Kijelölt témák: 0
Üdvözlünk a(z) GiroTorrent adatlapján!

Profil adatok
| | |
| --- | --- |
| Elérhetőség | Link az oldalhoz |
| Szint | 4 |
| Típus | Vegyes |
| Sebesség | 6 |
| Tartalom | 6 |
| Felhasználók | 3411 |
| Torrentek | 32517 |
| Regisztráció | Szabad |
| Arány | Könnyű |
| Nyelv | |
| Az oldal alakult | |
További bemutatók
Egyéb
Az oldal jelenleg:
Online
Elérési állapot:
0 (magyarázat)
Kapcsolat:
Kapcsolattartó:
IRC:
Hasonló oldalak:
Adatlapot beküldte:
Anonymus
2018-11-04
Legfrissebb hírek
By bincy
Google Translation:
Summary of the situation
After an update to the server errors have surfaced, while also updating the tracker to the new version
of xbtit the platform on which everything runs.
Given the continuous calls to not clog the MAIL box and the home, but so far proven useless, and remembering that the situation is undergoing evolution we summarize the problems unresolved to this site. VI REPEAT that just concluded, so everything will be done on post on the site and also on the Facebook group, hoping that it is finally clear we move on to the list.
The NOT SOLVED errors are as follows:
1) Search for slow torrents
2) general slowness
3) update of the pages
4) momentary offline (white page)
PAYPAL HAS BEEN RESTORED FOR WHO MAKES A DONATION
COMMUNICATE TO THE NICK STAFF TO ADD THE GRADE FROM SPECIALVIP
YOUR SUPPORT IS MORE THAN EVER PRECIOUS THANKS we are paying more technicians for the various problems
WITHOUT DONATIONS YOU KNOW THE TOUR DIES !!!
For those who find the non-Italian language set it where you find the foreign language on the right at the top of the home page
To repay the inconveniences we put the site free until November 15th.
All Together We Make A Great Site and A Great Site We Do It All Together
the staff
Greetings,
GiroTorrent
By posztoló
Cari utenti come avrete notato il sito ha avuto vari problemi di accesso in questi giorni.
In sintesi vi riepiloghiamo i fatti per farvi capire realmente le cose.
Speriamo nella vostra comprensione e nel darci una mano in quanto i tecnici che lavorano sono esterni al sito e la loro tariffa è altissima superiore ai 100 euro/ora.
Il sito subiva rallentamenti nel collegamento tra i database e il tracker,e ne il tecnico storico e neanche uno dei creatori della piattaforma xbtit sono riusciti a risolvere.
Quindi siamo ricorsi ad un tecnico specializzato nella materia che sta risolvendo il tutto.Ovviamente le spese se le pagheranno tutti.
Non è un ennesima scusa o volervi frugare nelle tasche ma oltre a metterci tempo e passione come detto altre volte non possiamo frugarci nelle tasche,quindi una mano ciascuno e si andrà avanti come sempre,sperando in qualche nome nuovo e non sempre nei soliti.
Confidando in voi un caro saluto d
una goccia per uno forma un lago
Tutti Insieme Facciamo Un Grande Sito Un Grande Sito Fa Noi Tutti Insieme
inoltre per compensare i disagi i file saranno free un mese fino al 25 marso
In conclusione amareggiati per il dover sempre richiamare la vostra attenzione,ma coscienti che la situazione lo richiede speriamo ancora una volta che scegliate per la vita di Giro e non per la sua morte.
Un saluto...Lo staff
.Google:
Tisztelt felhasználók, amint azt észrevetted, a webhely napjainkban különböző hozzáférési problémákkal küzdött.
Összefoglalva összefoglaljuk a tényeket, hogy valóban megértsük a dolgokat.
Reméljük a megértést és segíteni a dolgozó mérnökök kívül vannak az oldalon, és az ára is igen magas, több mint 100 € / óra.
Az oldalon szenvedett lassulás közötti kapcsolat az adatbázis és a tracker, és ez történelmi technikai és még az egyik xbtit platform alkotók sikerült megoldani.
Így vagyunk fellebbez egy technikus a kérdés, hogy van megoldása tutto.Ovviamente költségét, ha fizetnek majd minden.
Van egy ürügy vagy volervi keresni a zsebek de emellett, hogy időt és szenvedély, mint mondta, mielőtt nem tudjuk kotorászni a zsebében, és egy kézzel minden, és akkor megy, mint rendesen, remélve, hogy néhány új nevet, és nem mindig a megszokott.
Bízik benned egy meleg üdvözlés d
egy csepp egy tó számára
Mindannyian együtt csinálunk egy nagy helyet egy nagy telek tesz minket együtt
Ezen túlmenően, a kellemetlenségek ellensúlyozása érdekében a fájlok egy hónappal március 25-ig ingyenesek lesznek
Összefoglalva keserű, amiért felhívni a figyelmet, de annak tudatában, hogy a helyzet a remény újra, hogy úgy dönt, az élet a Giro, és nem a halálát.
Üdvözlet ... A személyzet
.
Dear users, as you may have noticed, the site has had various access problems these days.
In short, we summarize the facts to make you really understand things.
We hope for your understanding and give us a hand as the technicians who work are external to the site and their rate is very high above 100 euros / hour.
The site suffered delays in the connection between the databases and the tracker, and neither the historical technician nor one of the creators of the xbtit platform managed to solve.
So we resorted to a technician specializing in the subject that is solving the whole. Obviously the expenses if they will pay them all.
It is not yet another excuse or want to rummage in the pockets but in addition to putting time and passion as mentioned other times we can not rummage in our pockets, then a hand each and will go on as always, hoping for some new name and not always in the usual.
Trusting in you a warm greeting d
a drop for one forms a lake
All Together We Make A Great Site A Great Site Makes Us All Together
moreover, in order to compensate for the inconveniences, the files will be free one month up to 25th March
In conclusion, embittered by always having to call your attention, but aware that the situation requires it, we hope once again that you choose for the life of Giro and not for his death.
Greetings ... The staff
By bincy
https://i.imgur.com/ATwHpxL.gif
By posztoló
Dear friends and users of all Girotorrent,
we are approaching another Christmas, a new year and it's always a pleasure, shared by all the staff, I think that once again we will spend it together like a big family. It gives joy and really warms my heart to think this and think of you / us all together.
With the 'Holy Christmas approaching we can not make you one of our gift, we have to imagine what it might be, you guessed it! As has become our tradition we want to give the DOWNLOAD FREE (that will not be counted you what you download only what you share).
All files will be FREE from '8 December 2017 to 7 January 2018, and then you will have the opportunity to rearrange your SHARE-RATIO if lately you've been a little distracted in staying in SEED.
We are all aware that this tracker has grown a lot, and for a long time is not entered into the computer of many but in the hearts of many and thanks to the great work staff members are appreciated not only in Italy but also abroad. GIROTORRENT is a common good and we always keep up with all his style and his sense.
We can not conclude this PM with hope (and Christmas also means hope) that the Christmas season is not always the "usual suspects" to support Girotorrent with donations, you should know by now (several times there we have made knowledge) that are not sufficient to cover the increasingly onerous expenses that your tracker faces. Monthly expenses is that the end of the year as those that we must honor the end of December for extra expenses such as domain etc.
Wishing all of you and family MERRY CHRISTMAS AND HAPPY HOLIDAYS 2018
Long live Girotorrent.
THE STAFF
By bincy
Képek az oldalról: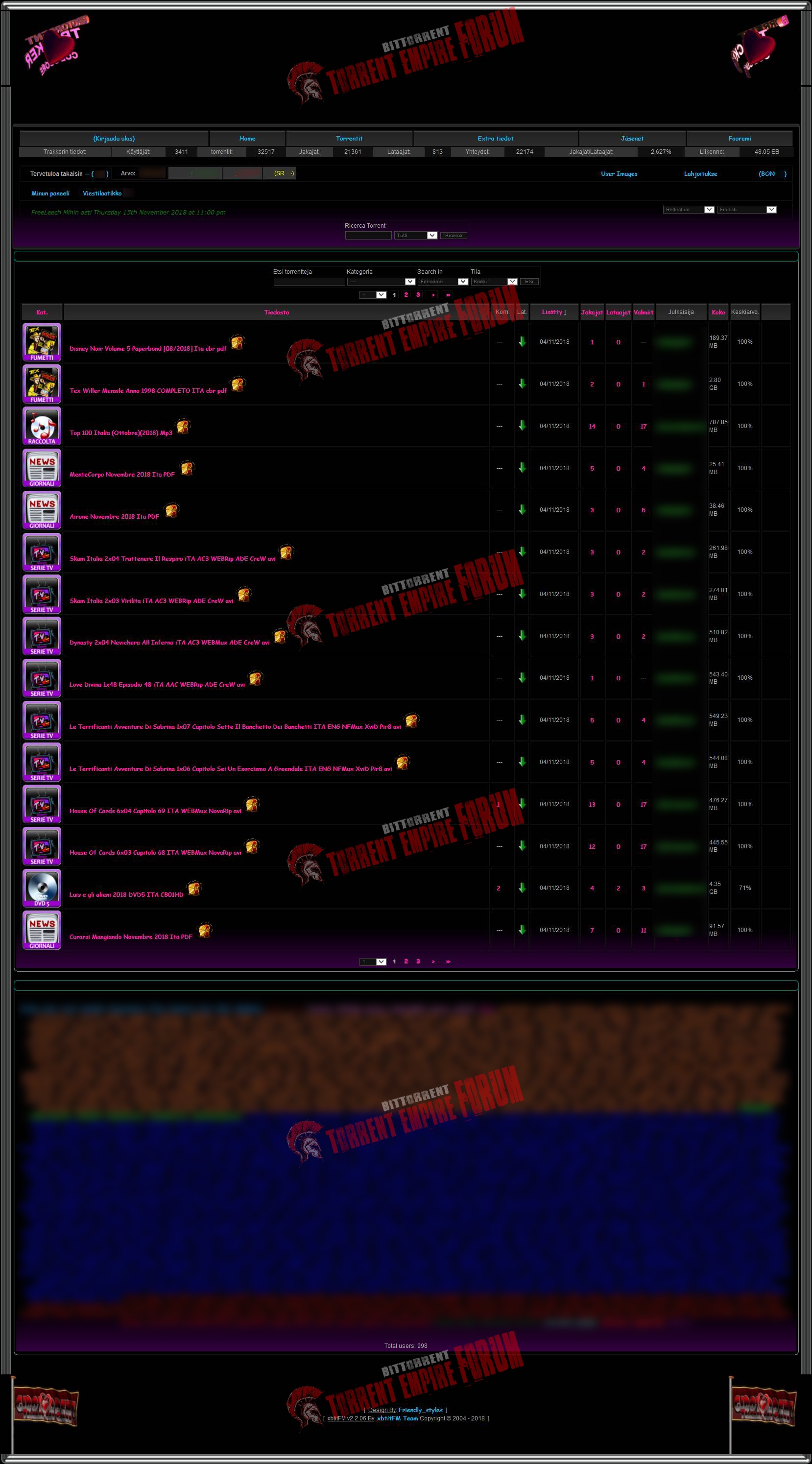 Megtekintve:144 alkalommal