Kijelölt témák: 0
Üdvözlünk a(z) Zomb Torrents adatlapján!

Profil adatok
| | |
| --- | --- |
| Elérhetőség | Link az oldalhoz |
| Szint | 6 |
| Típus | Vegyes |
| Sebesség | 7 |
| Tartalom | 5 |
| Felhasználók | 181402 |
| Torrentek | 7069 |
| Regisztráció | Szabad |
| Arány | Könnyű |
| Nyelv | angol |
| Az oldal alakult | |
További bemutatók
Egyéb
Az oldal jelenleg:
Online
Elérési állapot:
0 (magyarázat)
Kapcsolat:
Kapcsolattartó:
IRC:
Hasonló oldalak:
Adatlapot beküldte:
Anonymus
2018-12-08
Legfrissebb hírek
Boldog karácsonyt és boldog új évet!
A ZOMB Torrents-től mindannyiunknak örömteli és biztonságos nyaralást kívánunk.
Várjuk, hogy 2019-ben egy újabb nagyszerű év lesz a csodálatos élőzene megosztására.
ZOMB Torrents
A letöltési jogokat visszaadták
Nem számít, mit ünnepelünk és hiszünk mindannyian szeretjük a jó zenét, így a ZOMB aránya 2019 január 2-ig ingyenes!
By bincy
It's coming soon, February 1st. We launched in 2003. What a journey. There will be ratio free, and the journey continues.
Also we are in desperate need of funds to stay on top of the server bills. We're behind for this time of the month. I hate having to ask, but such is life.
this cycle we are giving THREE gig for every $1 sent.
Donation page link: http://zombtracker.the-zomb.com/donate.php
Thank you, rock on
ZOMB Torrents
By Frad23
These warm weather months go by so fast with so many of us busy with things going on. If at all possible it would be great to secure the server bills for the next several months in one fundraiser.
So, we'll try.
As per usual upload gigabytes will be added per each dollar contributed to the cause. If accounts have download rights suspended or warnings, those can be lifted that way as well.
The methods you can utilize to help out are listed here with different button values: http://zombtracker.the-zomb.com/donate.php
We will have a couple weeks of Ratio Free downloads, or known by others as Freeleech, starting in just ten days! So bring out ya dead, as they say, and share some goodies if you have them.
Also I hope everyone has a great summer and if able can see some great shows this year!
Bodhisattva
ZOMB Torrents
By Frad23
Hi All,
We squeaked through the latest billing cycle without needing to make too much notice, but just putting the call out to remind about server funding. Not my favorite thing to do by any stretch, but has to be done if we want to keep things online and bills paid on time.
Thanks in advance to everyone who is able to help out. The usual credits/benefits are active. Current options are Everbutton/Stripe or an Amazon Pay transaction.
Here is the page with the donation buttons: http://zombtracker.the-zomb.com/donate.php
bodhi
Donation Processor Update
By Frad23
Fall Fundraiser Update
Our Fall fundraiser will be ending in a few weeks. Our next fundraiser will not be until 2017.
As per usual we won't be making much noise about donations during the holidays.
During the last 3 weeks of this fundraiser everyone who donates will get THREE gigabytes added to their upload stats for every $1 sent in. For example, donate $100 get 300 gb, donate $40 get 120 gb, donate $20 get 60 gb and any account restrictions lifted. etc.
Here are the options:
WePay: http://zombtracker.the-zomb.com/donate.php
Amazon Store for Desktop Images: http://the-zomb.com/store.html
Thanks everyone and have a wonderful Holiday Season, a Merry Christmas, a Happy Hanukah, and New Year!
ZOMB Torrents
By Frad23
Képek az oldalról: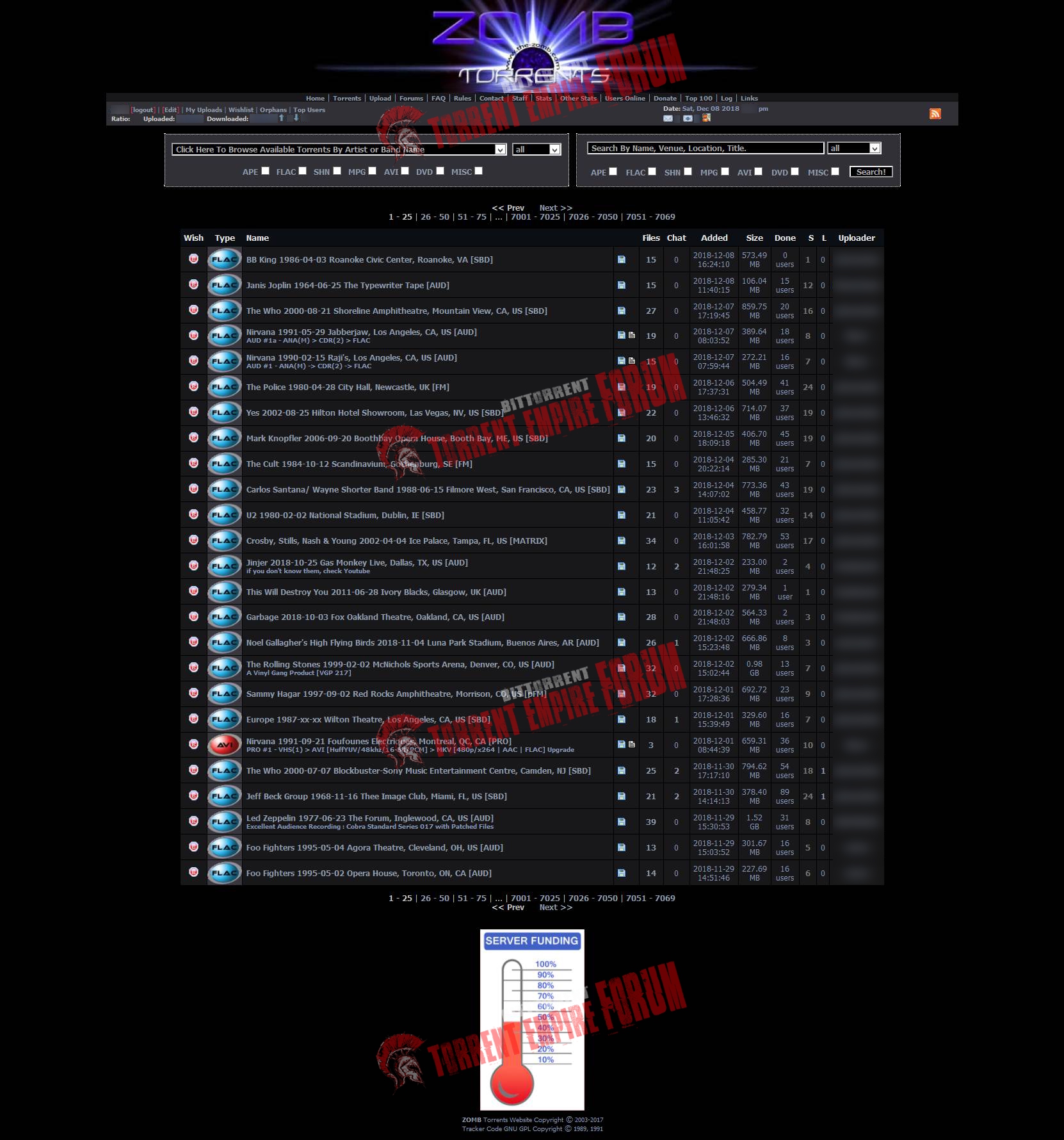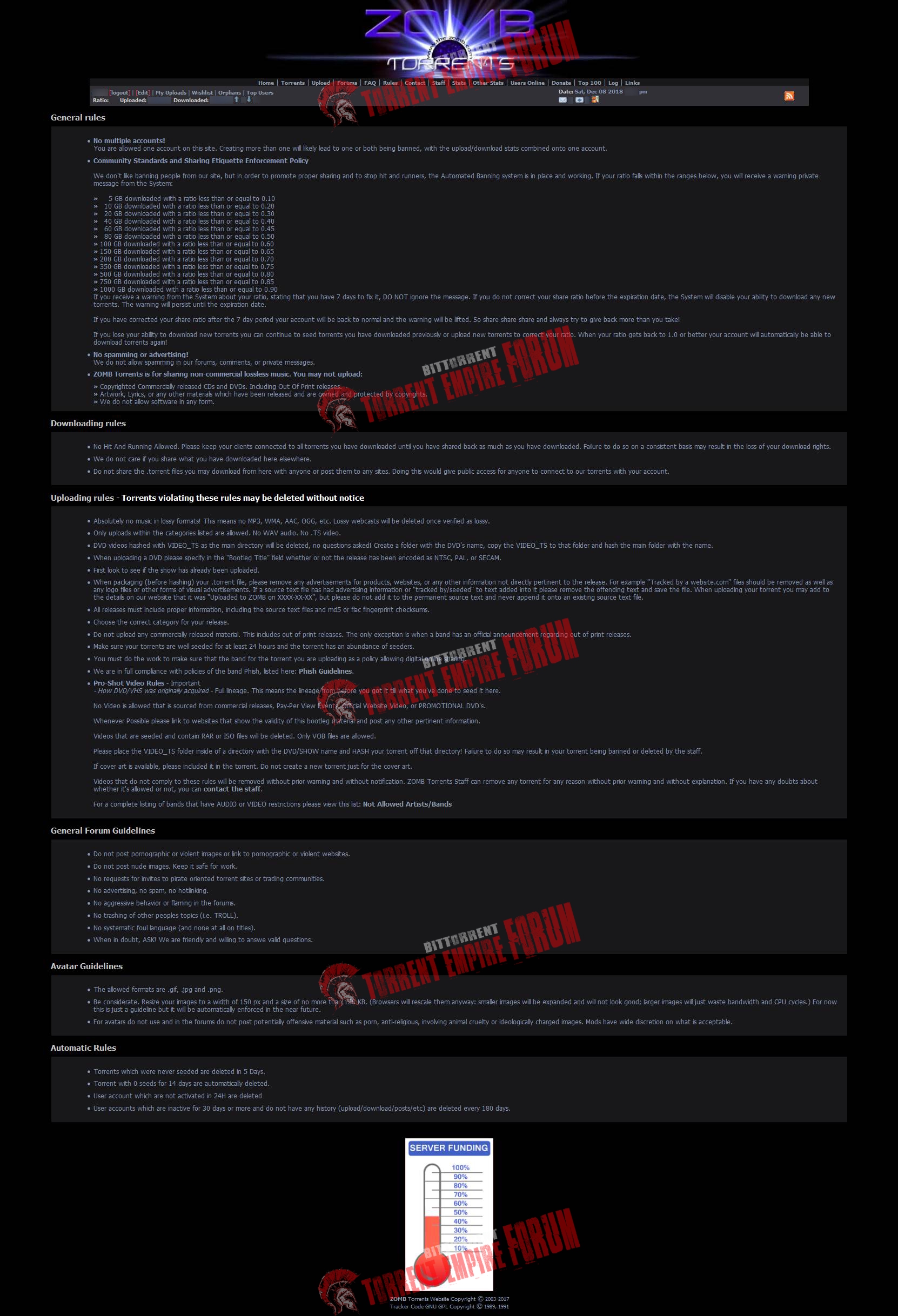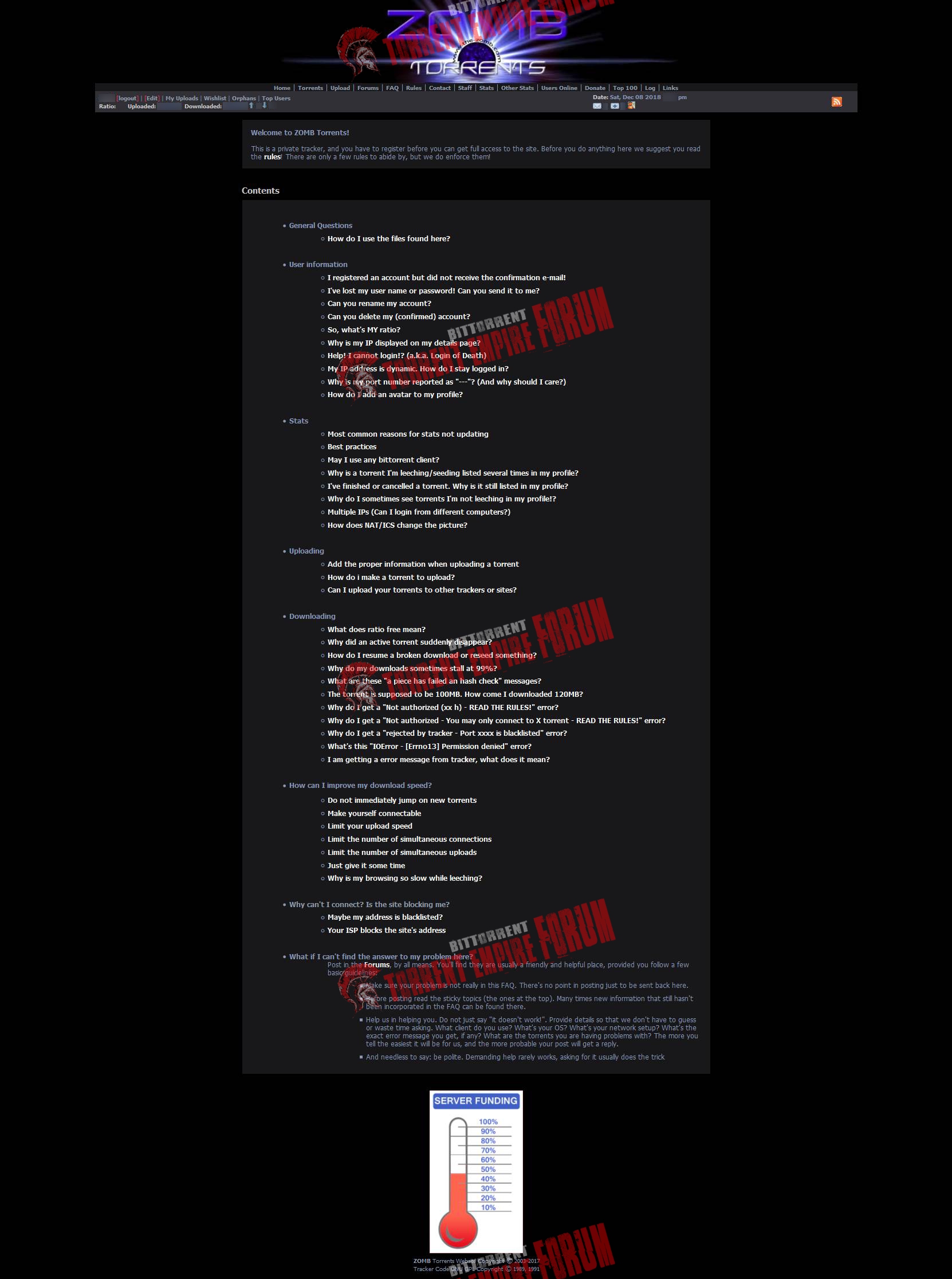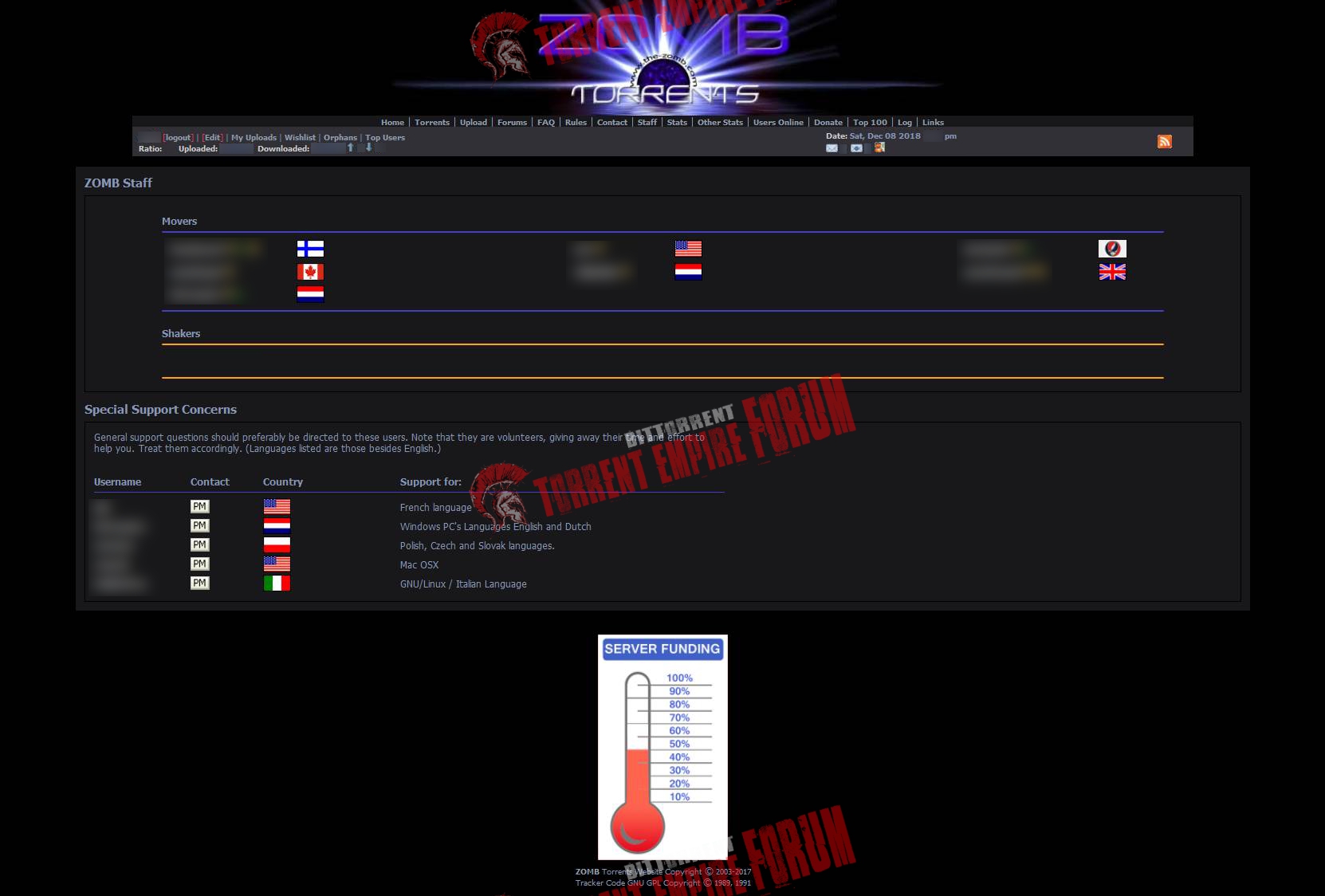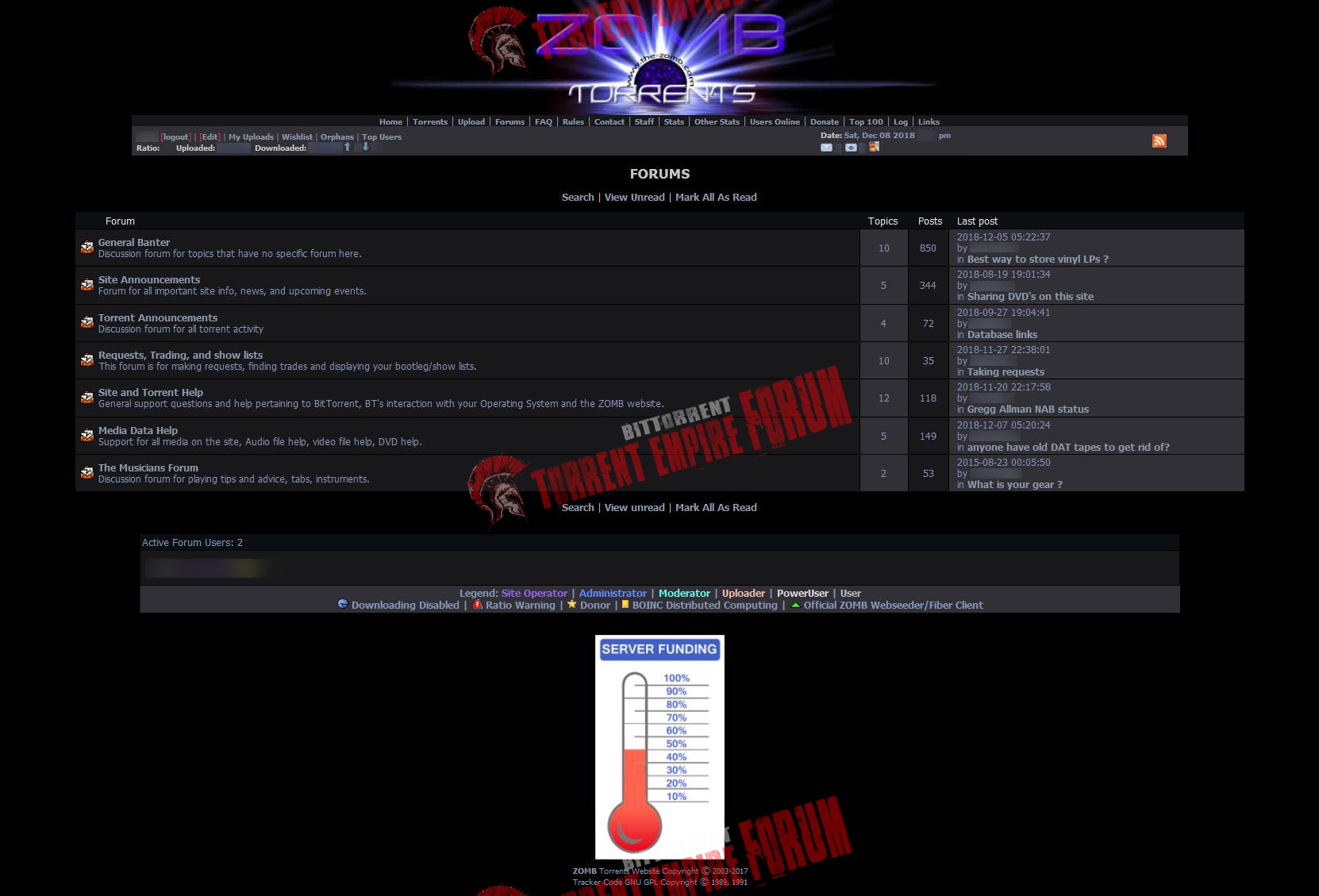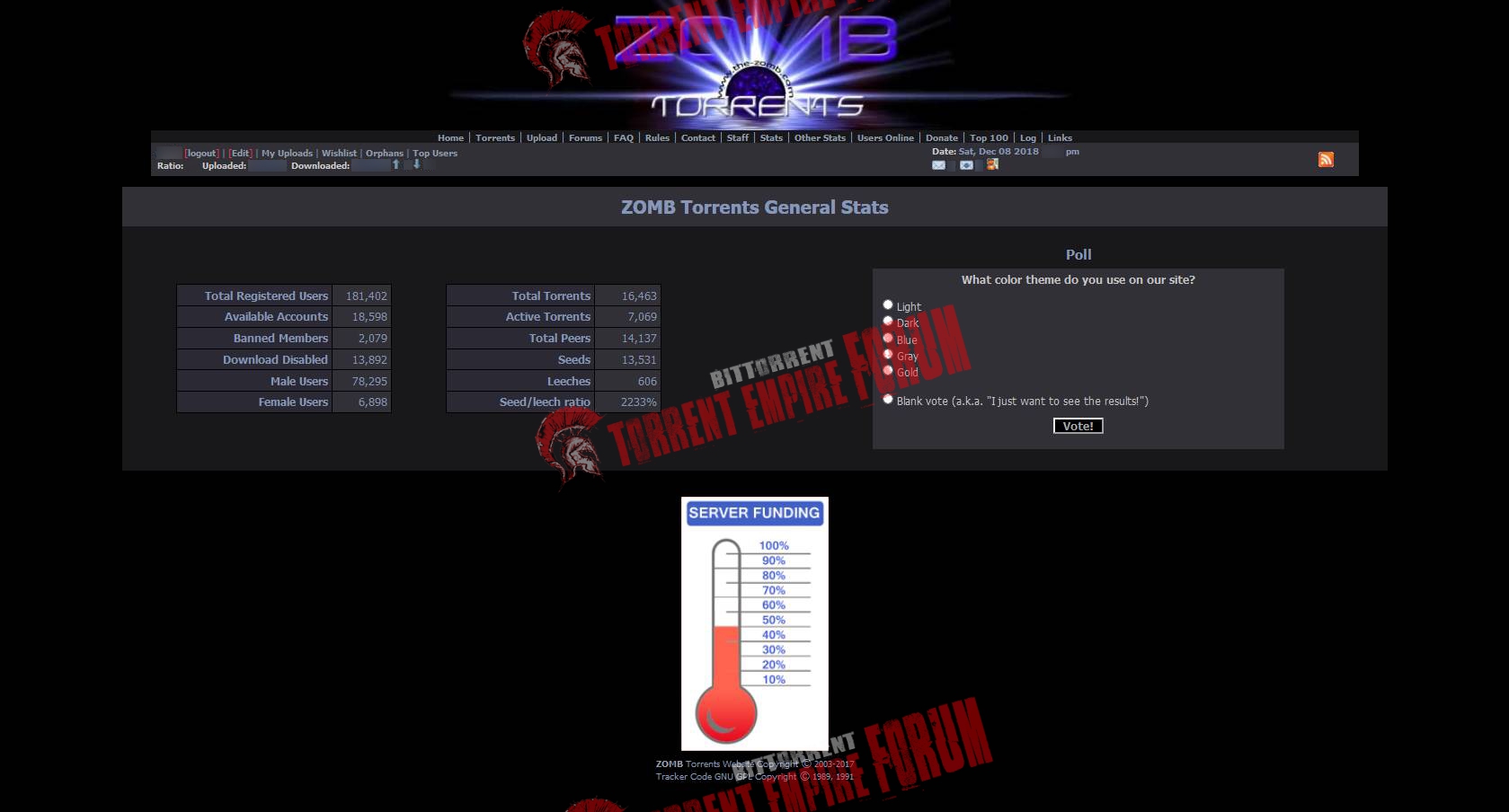 Megtekintve:226 alkalommal