Kijelölt témák: 0
Üdvözlünk a(z) BakaBT adatlapján!

Profil adatok
| | |
| --- | --- |
| Elérhetőség | Link az oldalhoz |
| Szint | 7 |
| Típus | Vegyes |
| Sebesség | 7 |
| Tartalom | 6 |
| Felhasználók | 134804 |
| Torrentek | 17598 |
| Regisztráció | Szabad |
| Arány | Könnyű |
| Nyelv | |
| Az oldal alakult | |
További bemutatók
Egyéb
Az oldal jelenleg:
Online
Elérési állapot:
0 (magyarázat)
Kapcsolat:
Kapcsolattartó:
IRC:
Hasonló oldalak:
Adatlapot beküldte:
Anonymus
2016-11-27
Legfrissebb hírek
Edit @ 13/01/19 20:35 GMT:
The server appears to be running fine.
We will be starting the tracker for tests and monitor its performance... *.bakabt.me should me responding normally now.
Please give 3h before reporting problems with the tracker server. We will be monitoring its performance and not reporting avoids clutter.
Please keep this topic only for non-bug/problems related feedback. As usual, report bugs in *Report Site Errors Here* instead.
By posztoló
Hey guys!
Another major server maintenance has to be done.
So, on 13 January, starting at 10h GMT, BakaBT will be taken down for maintenance.
The maintenance is expected to take between 5 and 9 hours (I.e. can be until 19h GMT).
During maintenance, the Tracker, BakaBT and the forums will be unavailable.
Also, don't worry about freeleech. Due to the recent events, we will extend it by 24 hours.
We will edit this message when the maintenance is over.
Cheers,
BakaBT Staff
By posztoló
Out with the old, in with the new: may you be happy the whole year through. Happy New Year!
In other news, I have really left this for the last minute... again - congratulations to all Holiday Banner contest winners
Everyone else gets to enjoy some Freeleech~
Happy Holidays.
By posztoló
Holiday Banners Competition '18
Another year, another annual Holiday Banners competition.
You can submit your banners with a New Year/Winter motif here...
Requirements
● Submit in .png (lossless) format
● Width 980px
● Height 120px
● Matches site!
● Use the Joyful Juliana font.
● Keep at least 100px clear on the left (RSS feed button).
● If the composition allows it put the image to the left and the text to the right.
● Tell us which anime it's from and the character(s) name.
● Provide link to your (tracker) profile so we can give you proper credit.
● We want some diversity, so try not to overuse old stock images that were previously accepted, it lowers your chance of it being accepted.
Like before, you'll have more freedom if you wish to experiment, however try to keep the banners consistent. That goes for the font and the background colour scheme.
New Year motif banners will be kept in rotation until the end of January, 2019 - so feel free to alter your banner slightly and re-submit it in the regular banner submission thread if you want to keep it in permanent rotation.
Best banners will be awarded - 2000 Bonus points for every banner we choose (No limits to number of submissions).
Same as last year, banners we like the most will receive extra points.
Submissions will be accepted starting today and until 23. December.
Happy Holidays, and have fun~
-BakaBT Team-
By posztoló
BakaBT admins have announced that the blacklist that used to forbid content licensed by Funimation, NIS America, Digital Manga Inc. and FAKKU Books on the private anime tracker does no longer apply.
"As we will not be going back to public tracker model as a way of compensating our users we have decided to do away with DNU list altogether.
DNU list kept us safe from C&Ds while we were public, but despite it and us going private a certain company forced us to move our server to a less DMCA tolerant host.
All content will be safe to upload, except loli/shota/guro hentai which will remain on the blacklist.", announces site admin Duki3003 on the BakaBT forums.
Read the full post here.
By posztoló
Képek az oldalról: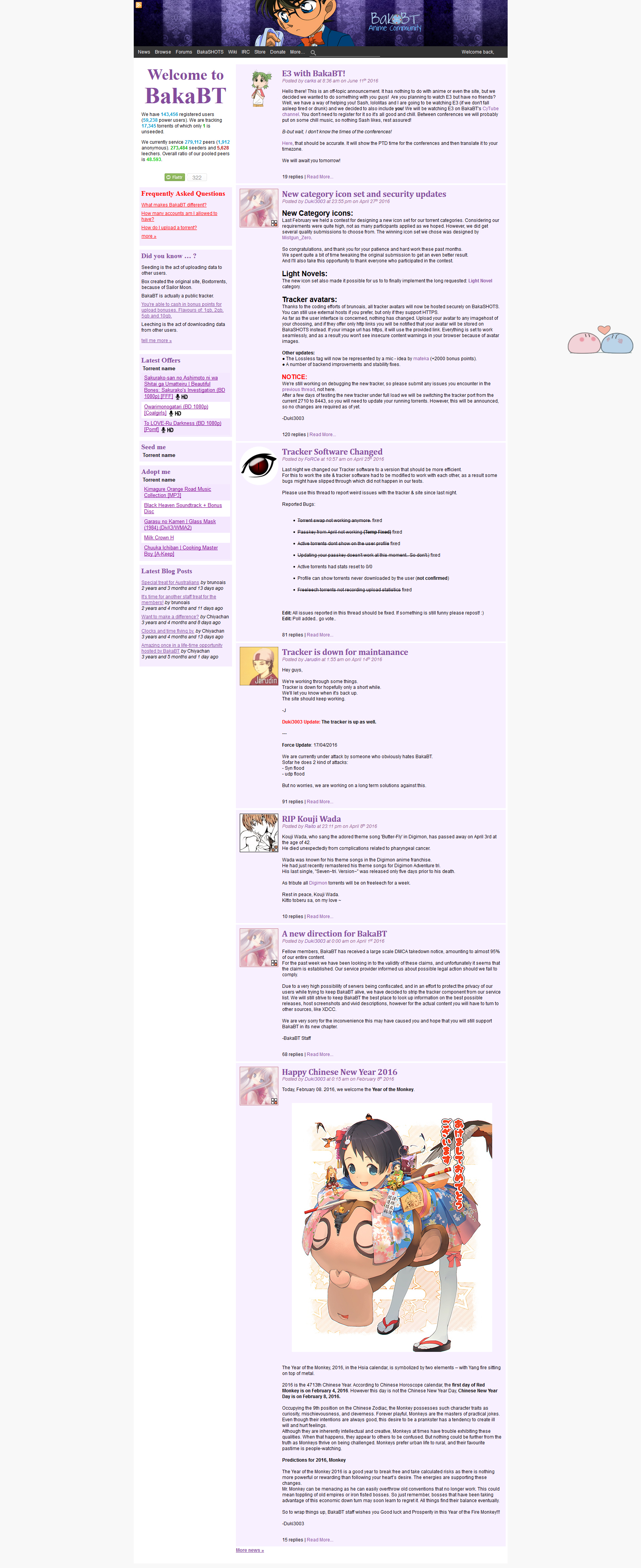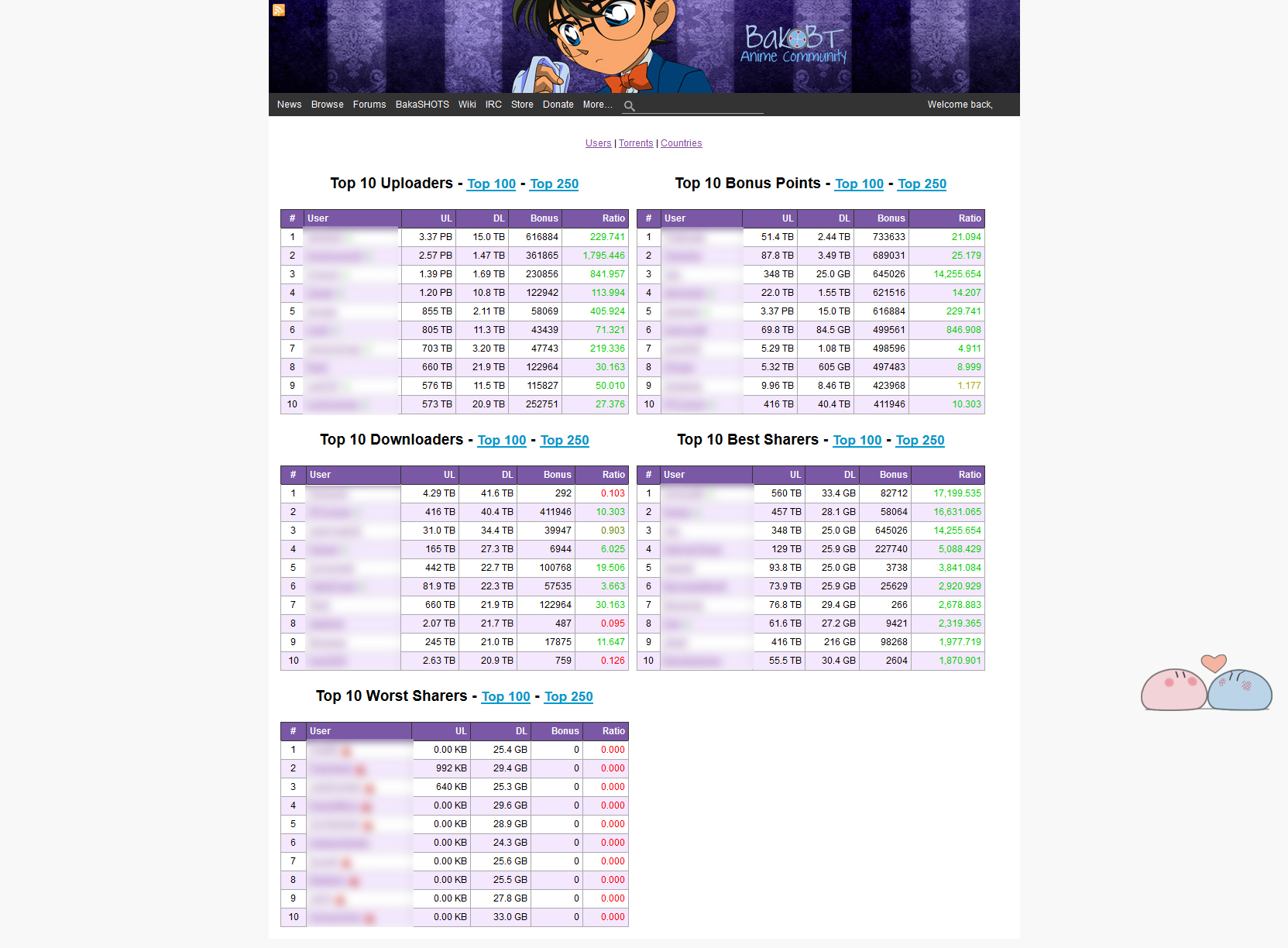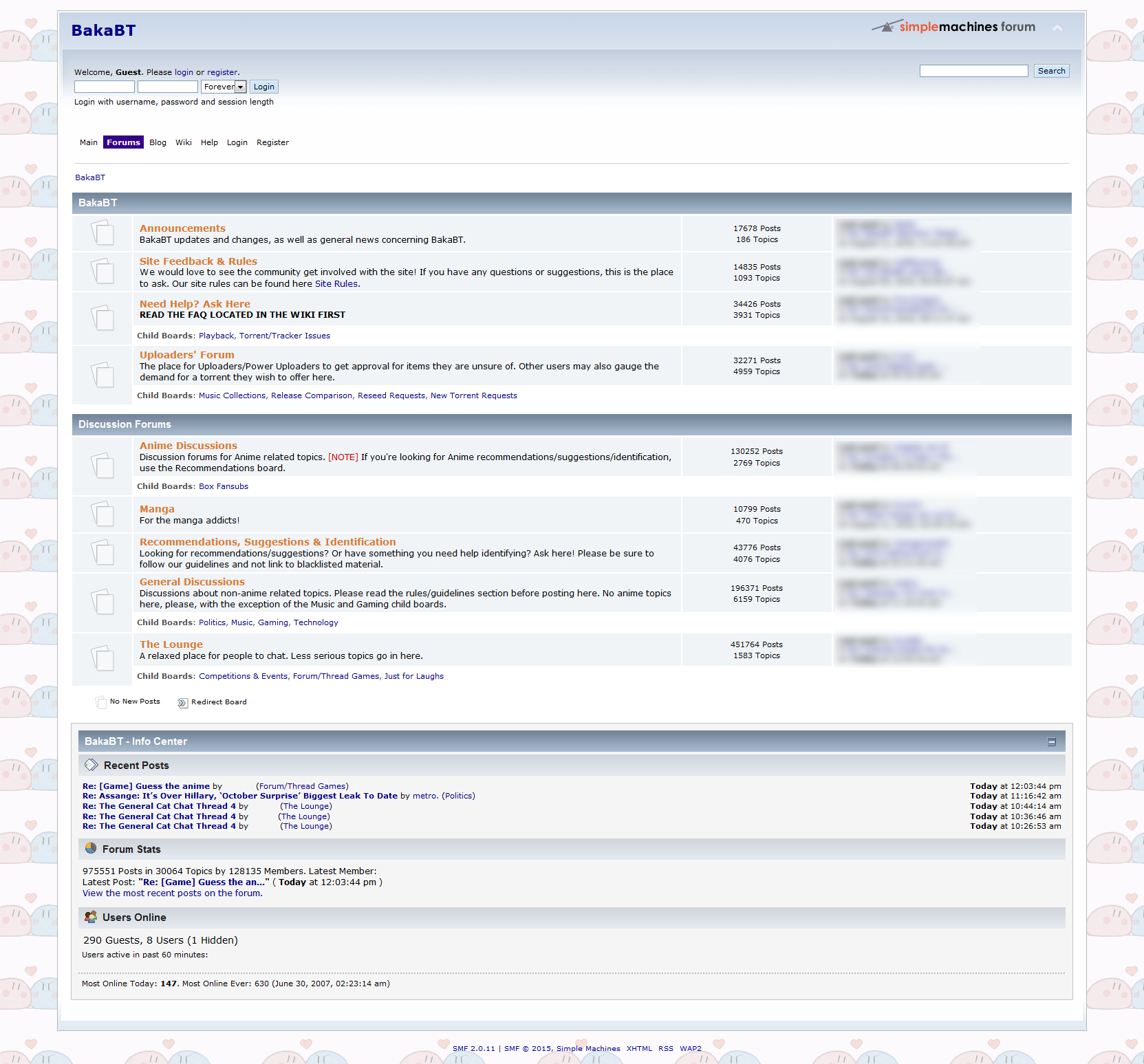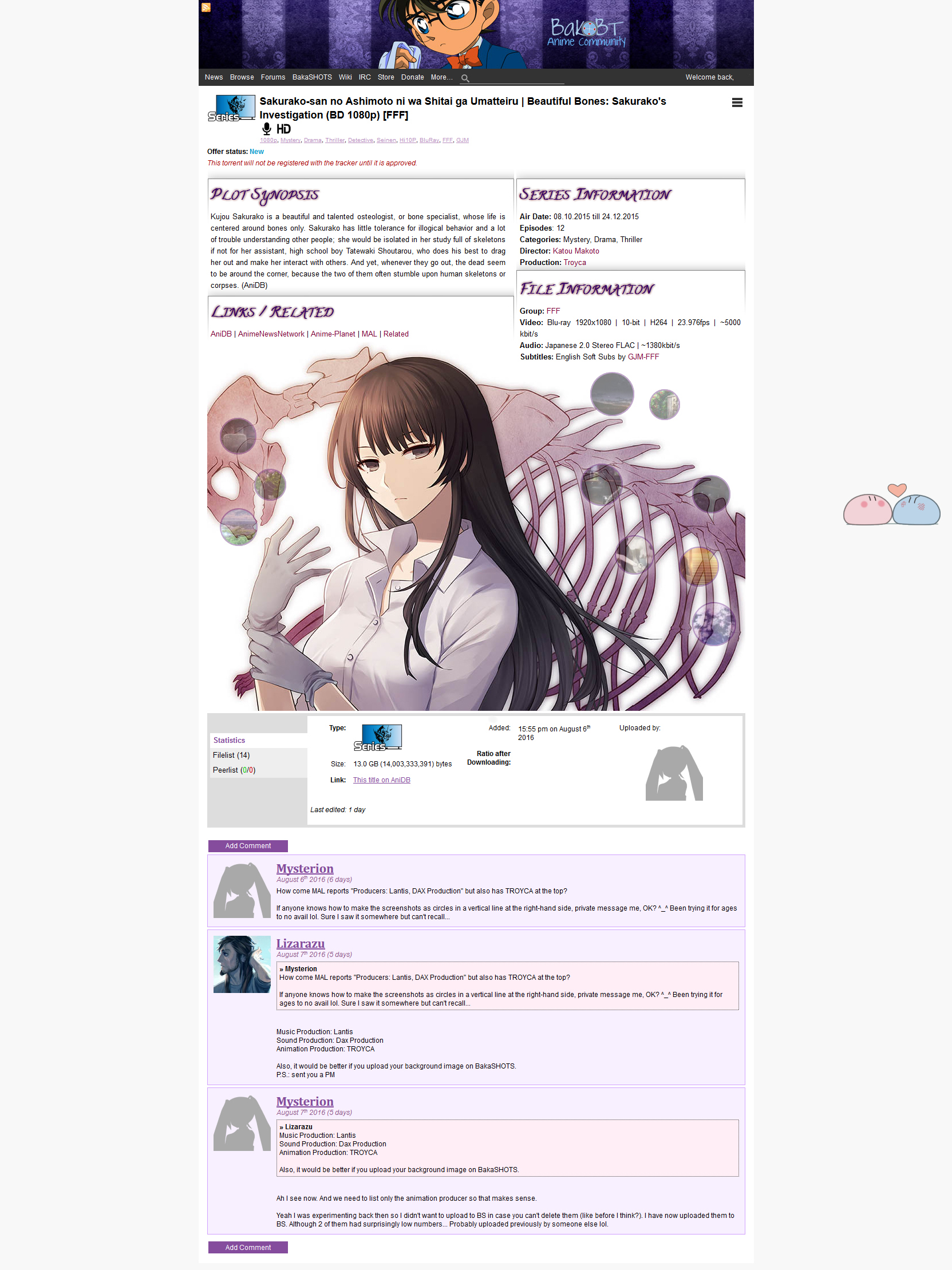 Megtekintve:419 alkalommal