Kijelölt témák: 0
Üdvözlünk a(z) NetHD adatlapján!

Profil adatok
| | |
| --- | --- |
| Elérhetőség | Link az oldalhoz |
| Szint | 5 |
| Típus | Vegyes |
| Sebesség | 5 |
| Tartalom | 5 |
| Felhasználók | |
| Torrentek | 52558 |
| Regisztráció | Szabad |
| Arány | |
| Nyelv | |
| Az oldal alakult | |
További bemutatók
Egyéb
Az oldal jelenleg:
Online
Elérési állapot:
0 (magyarázat)
Kapcsolat:
Kapcsolattartó:
IRC:
Hasonló oldalak:
Adatlapot beküldte:
macseklany
2018-05-16
Legfrissebb hírek
Google Translation:
NetHD notifies you to open an account!
NetHD would like to announce the opening of account registration for the new year 2019.
Registration period is from 25/12/2018 to 03/01/2019.
Best regards.
BQT NetHD
By posztoló
Google Translation:
Nethd announced the account registration and some changes as follows:
- NetHD will close account registration until the end of 2018 and only open subscription in the holidays in the coming years. (Nethd will not announce in advance). Signup will be closed from the time the notice is posted.
- Point scores will be recalculated to match the seed of the member. Activation point will decrease by rank (ie the higher your rank user, the less activation points)
- You have 30 days to improve ratio and increase account rank before tracker updates ratio requirements to maintain account.
- Rule and Faq will be updated and written more neatly.
- Change in the position of Admin and Mod job to suit the situation of the tracker.
- Add some uploaders.
- In the member profile will be added some new information.
By posztoló
Google Translation:
Account activation change notification.
BQT would like to announce.
The activation number is changed from 7783 to 7739. The information is updated on the active page and sent to the members inbox. The members should keep track of updated information. Avoid false message headers.
Briefly.
BQT Nethd.
By posztoló
Google Translation:
Dear all,
NetHD staff requires the following rules:
+ DO NOT upload the movie in Vietnam cinema, any torrent upload shared in this form will be deleted immediately without notice.
Comment complaining about slow upload speed will be deleted, and members that complain about the speed of uploader will be warned / banned depending on the level.
+ For torrents under 50 GB, uploader must complete within 5 days, you pay attention in 5 days to arrange seed time and speed to ensure complete compliance (1.4.3 - Rules)
+ 1.4. Do not spam comments on torrents and forums, post meaningless comments or follow the movement. Comments like this: thanks, thank you boss ... is spam comment, please click "thanks" instead of comment like so.
Is pleased to announce!
NetHD staff
By posztoló
Google Translation:
Celebrate Independence Day 02/09 Nethd freeleech 2 days.
Dear members
Celebrate Independence Day 02/09. Nethd will be freeleech for 2 days
Best regards!
NetHD Staff.
By posztoló
Képek az oldalról: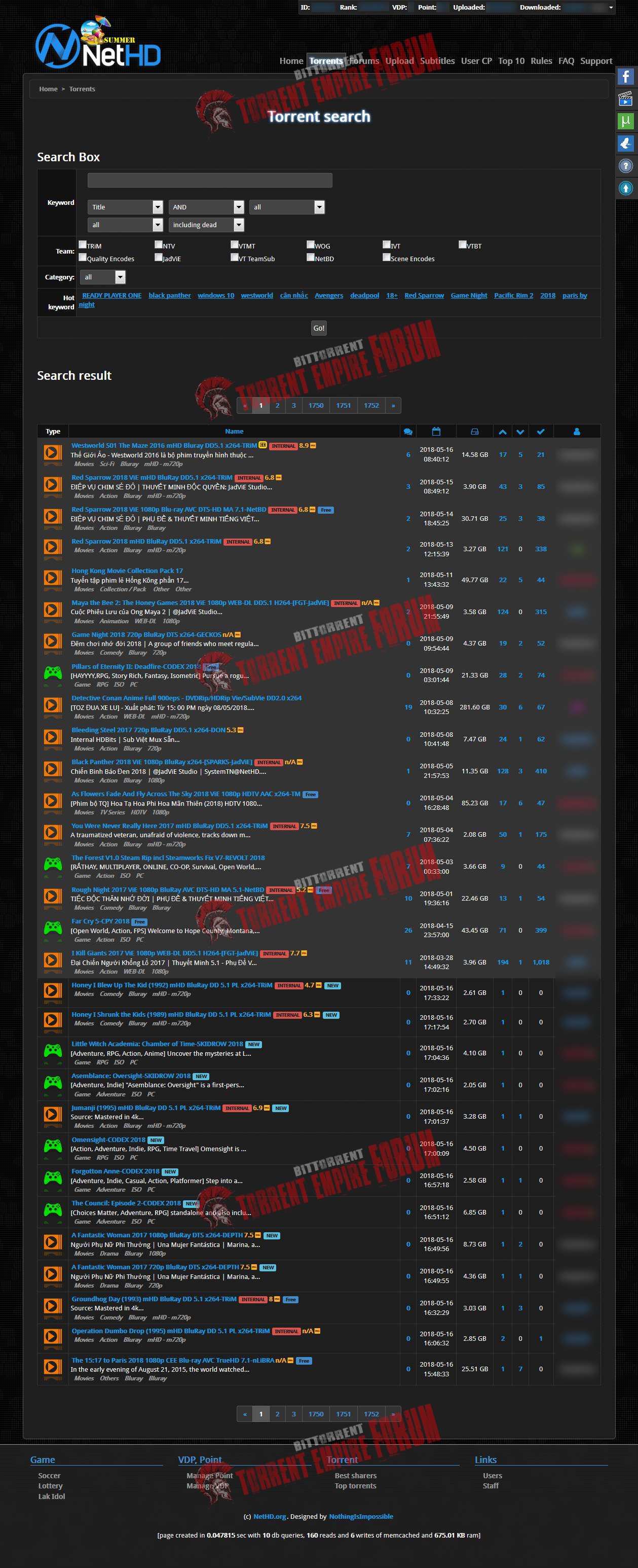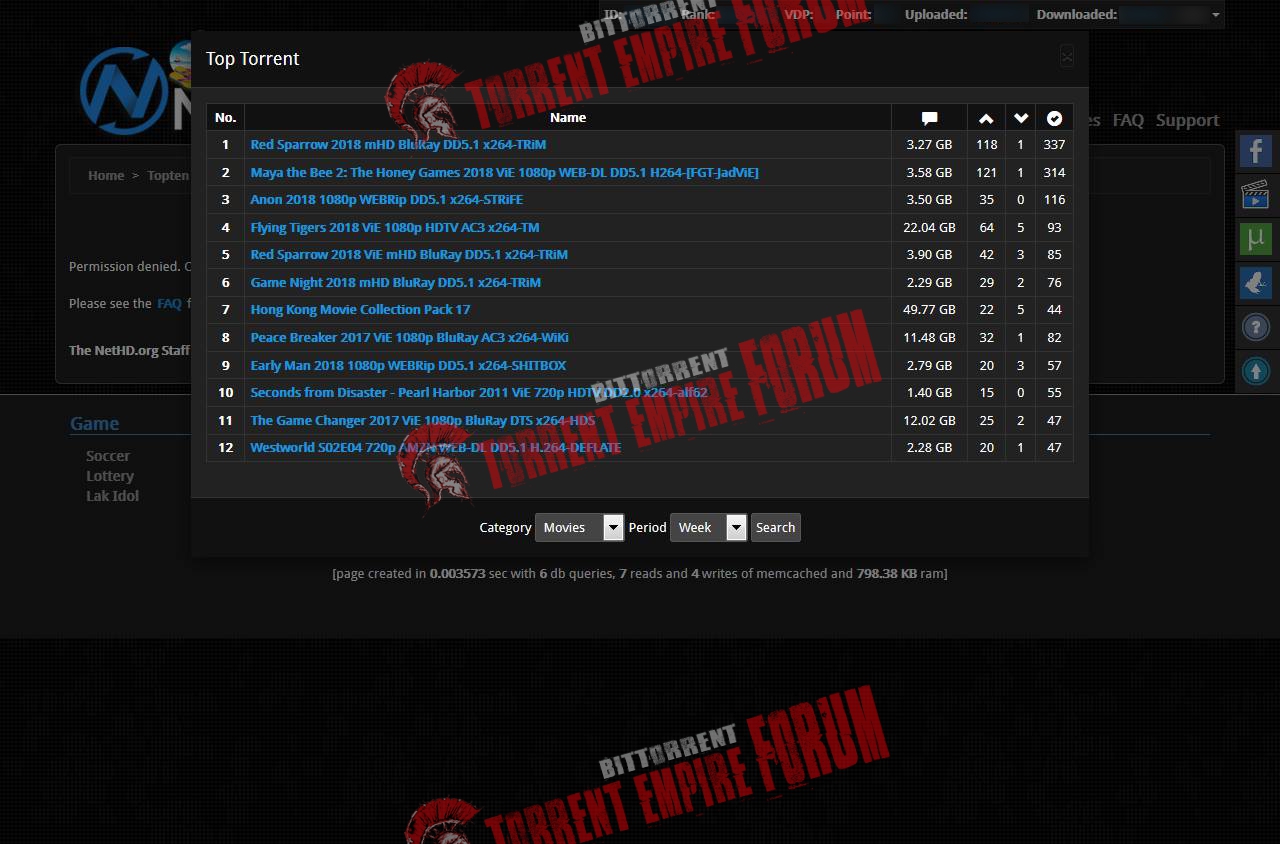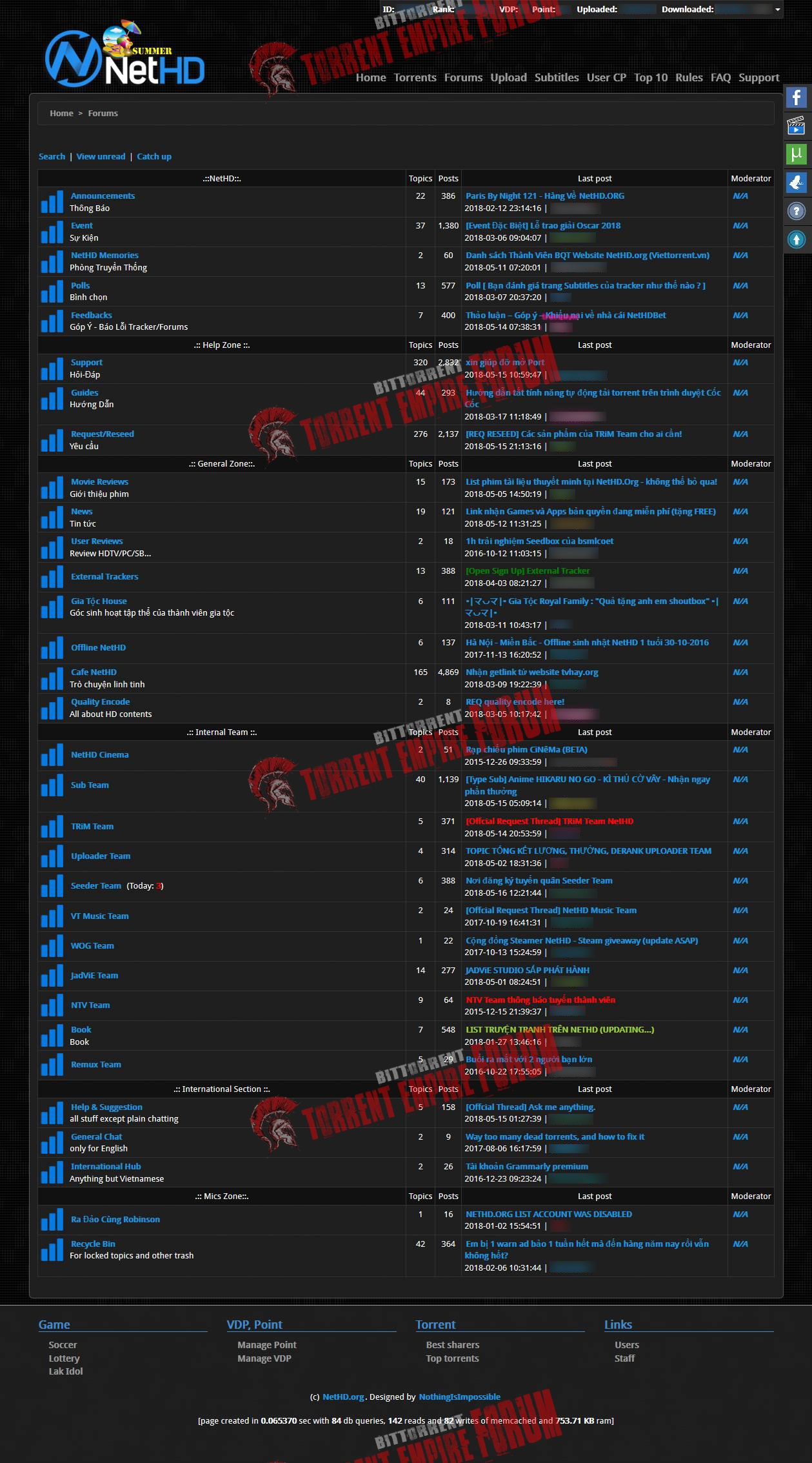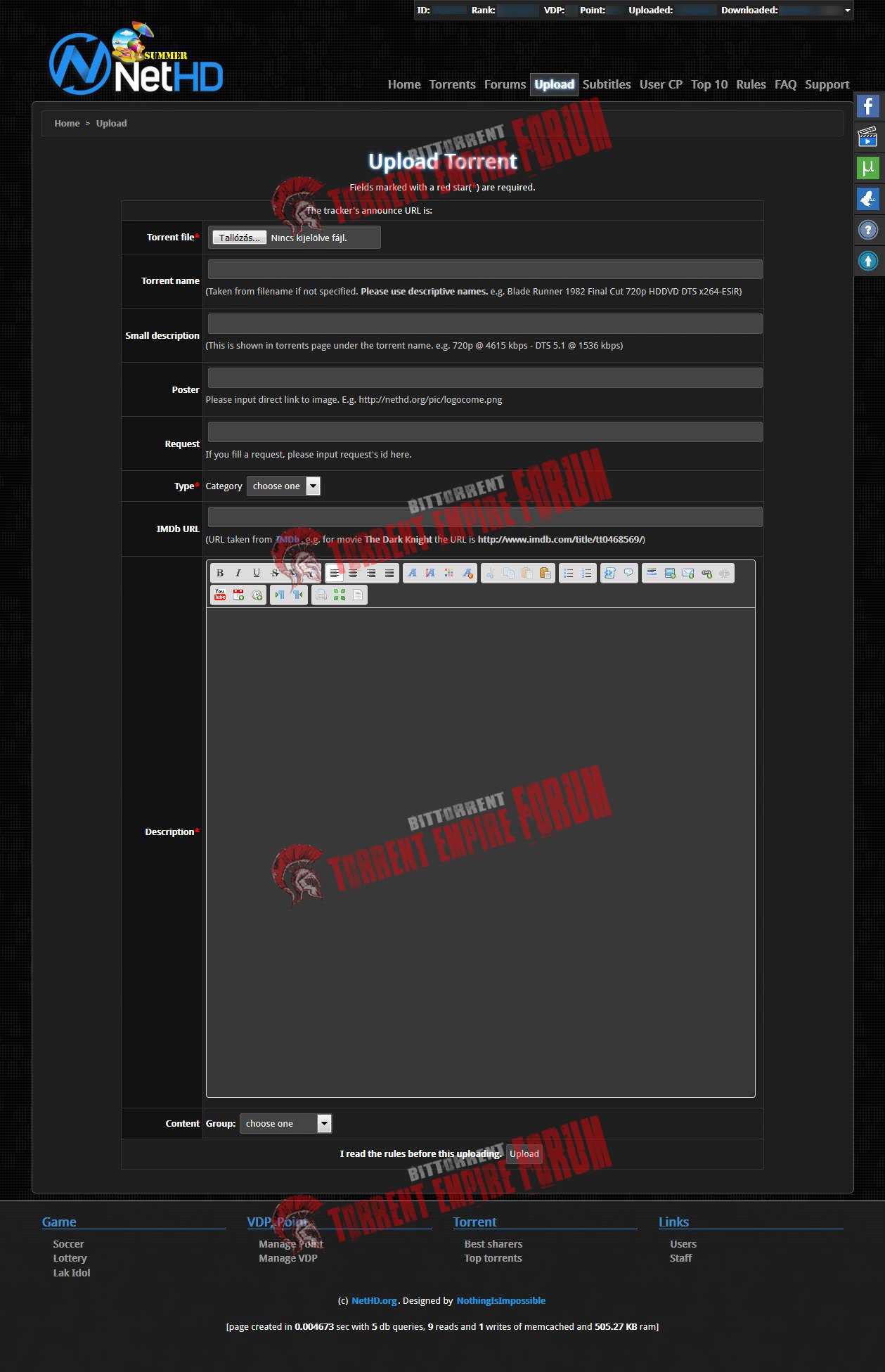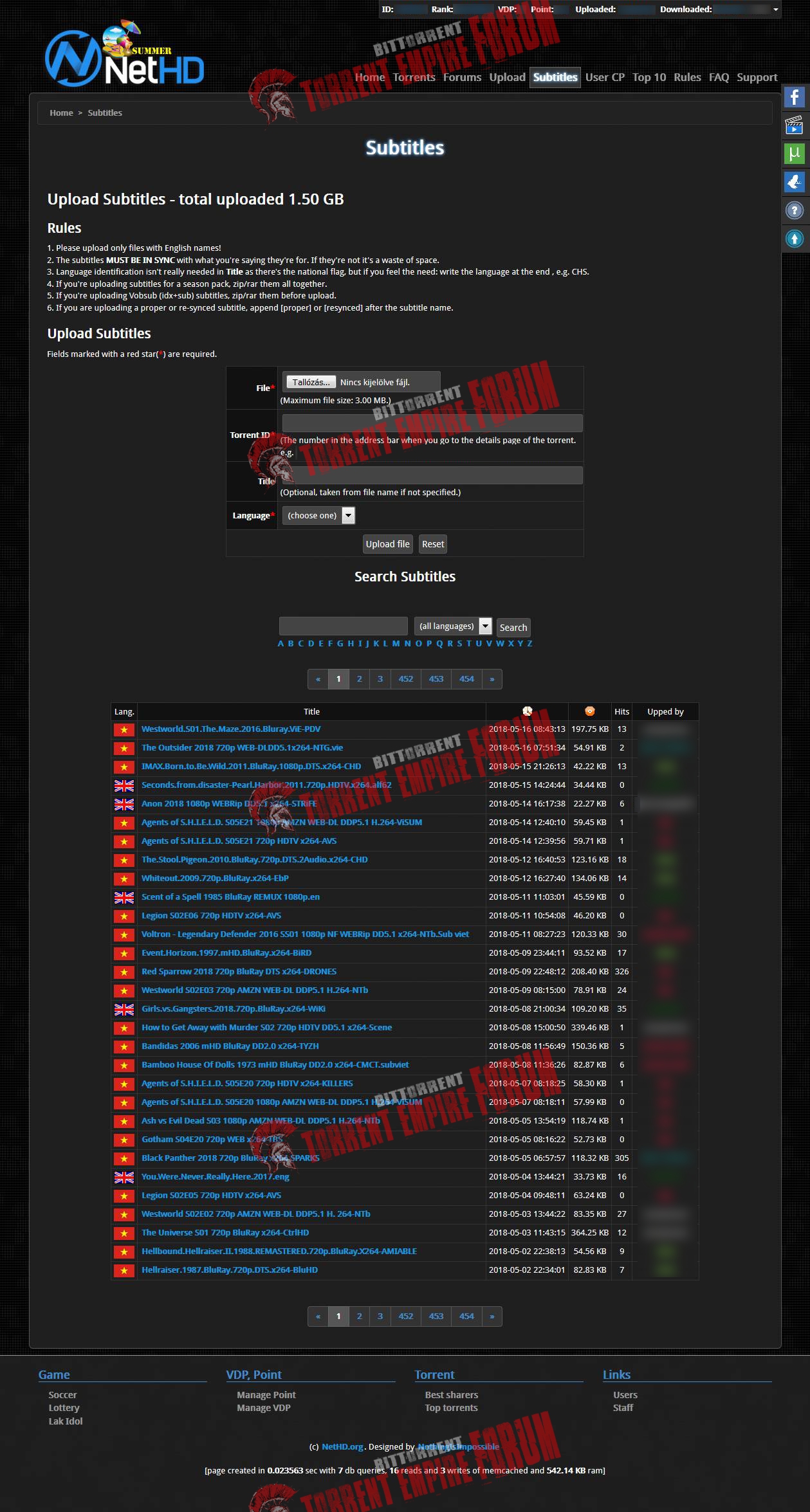 Megtekintve:386 alkalommal