Kijelölt témák: 0
Üdvözlünk a(z) TheGFT adatlapján!
Profil adatok
| | |
| --- | --- |
| Elérhetőség | Link az oldalhoz |
| Szint | 8 |
| Típus | Vegyes |
| Sebesség | 9 |
| Tartalom | 9 |
| Felhasználók | 7265 |
| Torrentek | 53159 |
| Regisztráció | Meghívóval |
| Arány | Aránymentes |
| Nyelv | angol |
| Az oldal alakult | |
További bemutatók
Egyéb
Az oldal jelenleg:
Offline
Elérési állapot:
0 (magyarázat)
Kapcsolat:
oldal@oldal.hu
Kapcsolattartó:
IRC:
Hasonló oldalak:
Adatlapot beküldte:
Anonymus
0000-00-00
Legfrissebb hírek
Translating Site / Financial News
Site being translated to Swedish and Portuguese
At this moment Kane is translating the site to Swedish and I am translating it to portuguese, if you would like to debug the site in those languages or help translating to another language please send me a PM. :-D
Financial Update
Thank you for all your donations, we have enough money to pay our december bills (one was payed and the other will be payed). But after we do that almost nothing will be left in our btc wallet, so please continue donating to help keep the site alive.
Our bills are around 150 euros, but if we receive donations around 220/month we can get the MP3/XXX uploader back online.
By posztoló
Rule overhaul
"A lot has change under the hood"
While the site mainly looks like it has done for some year(s) now many things have changed and i have the pleasure to announce a few more below...
First, some new faces can be found on the staff page. Lemmy and eViLoNe. Both has been very useful in the reboot of GFT.
Second, as written below, we need money to still be here. Donate whatever you can and want to if you like the site. No single person can do it all but many can do it together. No one ever makes a buck on running GFT, every single euro will always be pushed into the site economy. Please help us there!
Third, anynomizers are now allowed. Too many countries are now chasing pirates and the need to protect yourself has overgrown the win from not allowing them. The tools today to chase down the bad guys are better too so while this is a dream come true for many torrent invite site users it wont mean that you're free to roam the site. We will as always hunt you down! Using proxies, VPN or whatever. If you feel the need to hide then do so. Asking for help in support can require your home IP in certain cases.
Fourth, we unban the banned countries. This is controversial but just like stated above, the tools are better today than it was to chase down the bad guys. For those not knowing the history and thinking "what, why ban a country?" there was never anything personal there. It just came to a point where certain countries gave more work and shit than it gave back in terms of good users. This means that Romania and Egypt are welcome to sign up again. This does not mean we welcome those who has been banned for bad stuff before. This is not an amnesty for traders, cheaters, sellers and all that crap! Those of you who know your GFT history also knows we have had openings in the past where we allowed signups from banned countries. Again, it was never anything personal! (The ban was only for new signups. No old existing account has ever been banned because they were from a banned country).
Fifth, (this is getting long) the inactivity enable rule is changed. The limit was six months before and it was decided a long way back to do that because traders, sellers and buyers came in hordes to have their bought, traded or sold account enabled years after it was inactivity disabled. There is no limit for now. People should visit #GFT-Inactivity on IRC to come ask for their account.
By posztoló
Domain registration and DNS configuration now OK
Server and tracker still down
By posztoló
Domain renewal is now OK
The person who holds the passwords for setting up the DNS is out of contact
All will be fixed when he responds
Be patient
On a positive note, GFT is otherwise running well
Recently ...
The automatic Scene feed was reinstated
and the IRC announce bot was repaired
Best wishes and thanks to the GFT SysOps
By posztoló
From the site's IRC (regarding tracker's downtime):
Someone (from staff) forgot to renew the domain name
Will be fixed soon.
By posztoló
Képek az oldalról: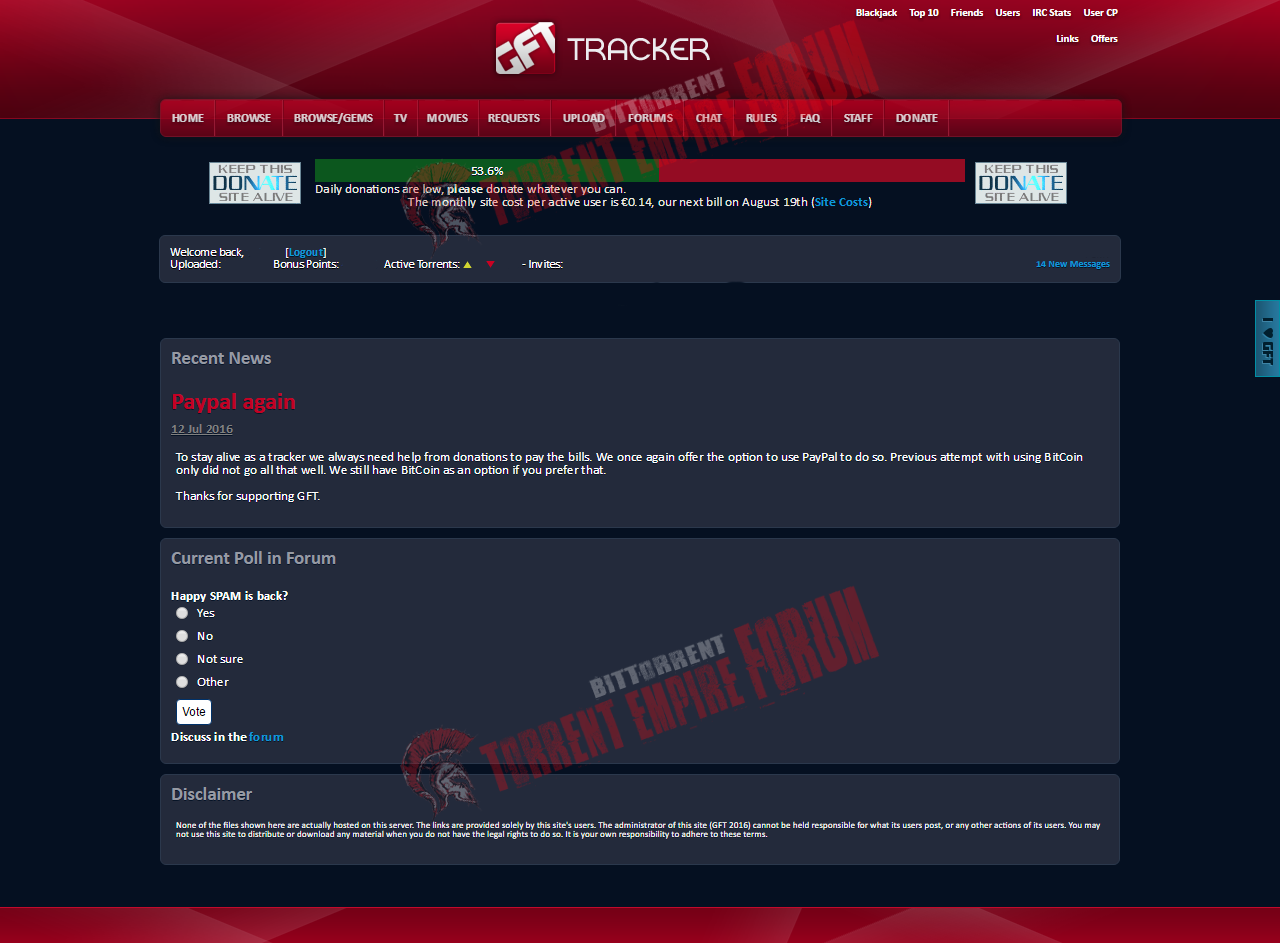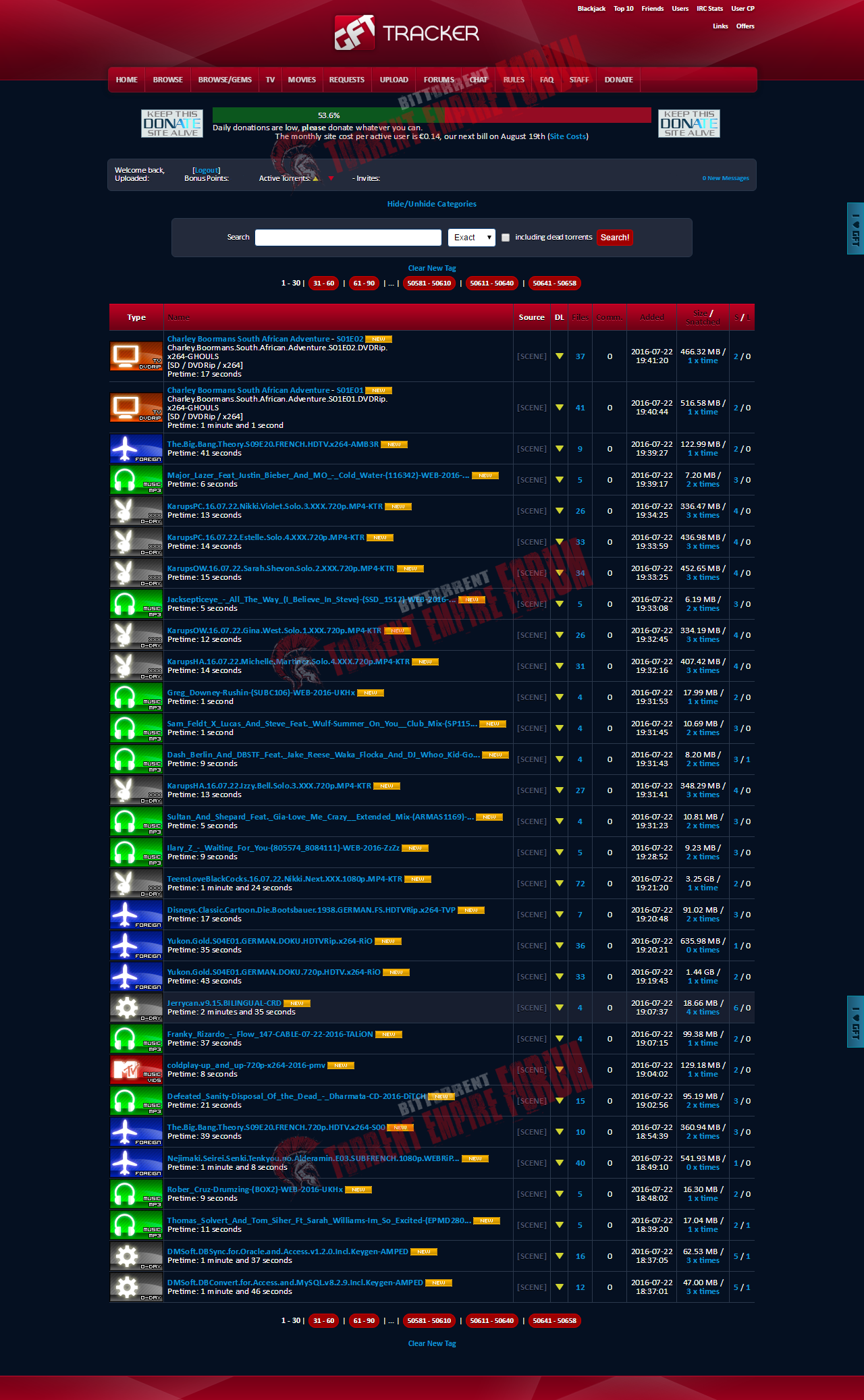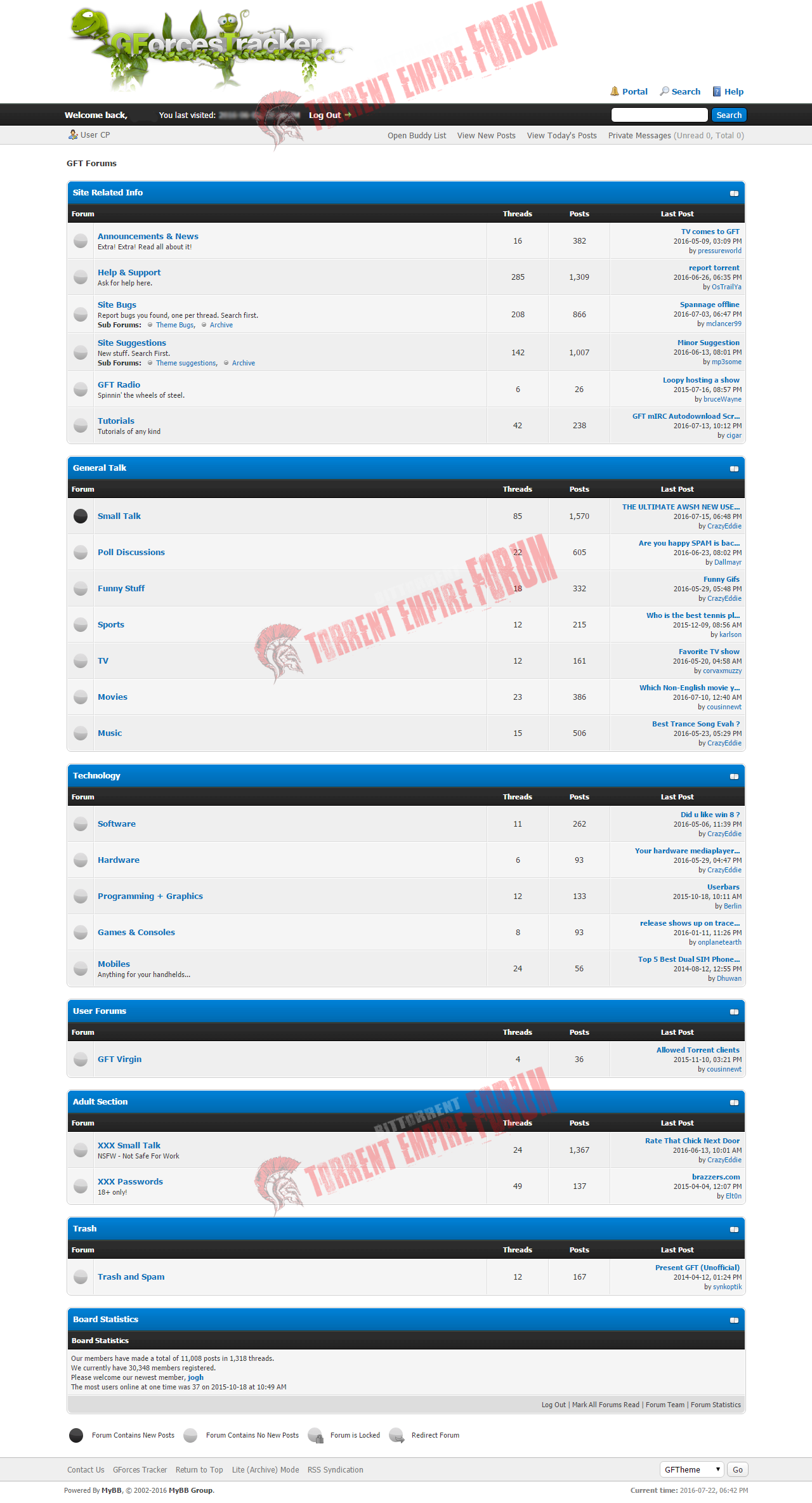 Megtekintve:379 alkalommal